Gleaming glass doors gracefully guide customers into an inviting atmosphere. Installing glass doors for a NYC business offers more than just aesthetic appeal; they also provide beneficial advantages that are often overlooked.
From bolstered safety to increased visibility, the ten lesser-known perks of installing glass doors make them invaluable assets to any New York City business.
Door Guys NYC can help businesses in the Big Apple understand and appreciate the many benefits that accompany properly installed glass entryways.
These rewards range from enhanced security options to improved energy efficiency and can be integral components when it comes to creating a profitable enterprise.
Improved Visibility
Installing glass doors in a NYC business can provide an improved aesthetic appeal that can draw in customers and make them feel welcome.
Additionally, the convenience of having a glass door is unparalleled; they are easy to open and close while providing smooth access for both employees and customers alike.
Furthermore, the visibility from inside outwards increases with the use of such doors as it allows natural light to pass through which helps create an inviting atmosphere.
Moreover, this increased clarity brings about more safety for those inside since any potential threat outside will be noticed quickly.
This transition into enhanced security provides further benefits for businesses that install glass doors.
Enhanced Security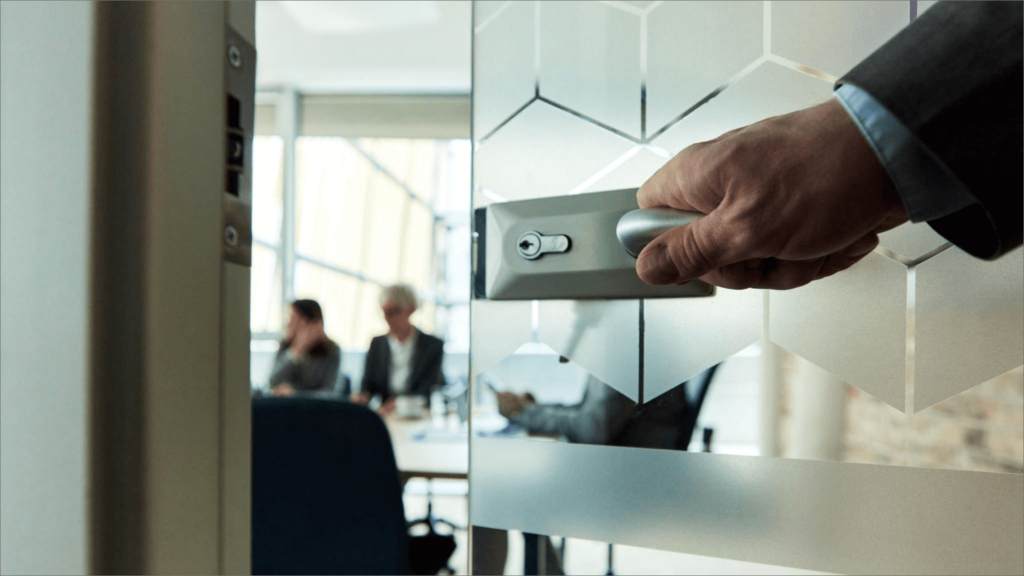 Installing glass doors has many added benefits to businesses in NYC, particularly when it comes to enhanced security.
Not only are they aesthetically pleasing and bring natural light into the space, but also help create a secure environment.
Glass doors offer an increase in safety by providing extra protection against intruders or trespassers.
As well as improving visibility for staff so that any suspicious activity can be immediately spotted, some types of door systems come with advanced access control options such as card readers and keypad entry systems.
These provide even greater levels of security and peace-of-mind for business owners.
In addition, they present an additional layer of defense from external threats and allow staff members to monitor entrances more effectively while still maintaining an open atmosphere.
With this increased level of protection comes improved efficiency due to fewer disruptions from unwanted visitors entering the premises.
Transitioning now into noise control…
Noise Control
Glass doors provide business owners in NYC with a great way to ensure their space remains noise-free.
With soundproofing and acoustic insulation technology, glass doors can reduce the amount of outside noise that enters a building or workspace, making it easier for employees to concentrate on their work without being disturbed by external distractions.
Additionally, they allow natural light into the room while still providing peace and quiet inside. This helps create an atmosphere that is comfortable and productive for everyone involved.
Glass door installation also allows businesses to control how much sound travels between different rooms; this ensures the privacy of conversations happening within each individual area.
The combination of these features makes glass doors an excellent choice for any business looking to establish or maintain a peaceful working environment.
Energy Efficiency
Installing glass doors for businesses in NYC brings with it numerous energy efficiency benefits. These include:
1. Reduced heating costs due to increased insulation from the airtight seal that comes with most modernized commercial door systems.
2. Increased ventilation as a result of improved airflow, which helps to reduce carbon dioxide levels and improve indoor air quality.
3. The ability to take advantage of natural light during daylight hours, reducing reliance on electric lighting and ultimately resulting in lower electricity bills.
In addition, this can help create an inviting atmosphere within the workplace that supports productivity and employee wellbeing. Transitioning into greater use of natural light also enables businesses to make their operations more environmentally friendly.
Increased Natural Light
Installing glass doors in a NYC business is an excellent way to improve the look of any space.
Not only does it increase curb appeal and attract more customers, but it also allows for natural light to enter the premises.
This reduces electricity bills by decreasing the need for overhead lighting during daytime hours.
The additional sunlight can brighten up any office or retail setting, and may even create a more inviting atmosphere that encourages people to shop longer and/or stay at work longer.
Glass door installations are quickly becoming one of the most popular ways to maximize natural light while creating an aesthetically pleasing environment.
Frequently Asked Questions
Q: How Much Does It Cost To Install Glass Doors In A Business?
A: Discounted rates and energy savings are two key benefits to consider when deciding how much it costs to install glass doors in a business.
With the help of an experienced glass door installation expert, businesses can make cost-effective decisions that lead to long-term financial gains.
Glass doors have become increasingly popular for their versatility and ability to enhance the aesthetic appeal of any commercial space, while providing multiple advantages such as improved insulation, natural lighting, increased visibility and security, reduced noise pollution, and more.
By taking into account all these factors when evaluating the necessary expenses for installing glass doors in a business, organizations will be able to take full advantage of the many cost savings available through discounted rates and energy efficiency.
Q: Is There A Warranty For The Glass Doors?
A: When it comes to the quality of glass doors and customer service warranties, there are a few important factors that need to be considered.
Generally speaking, when customers invest in installing glass doors for their business they should expect a warranty on both the labor and materials used. This ensures that if an issue arises with either the installation or the material itself, it can be addressed quickly by trained professionals who will work to rectify any problems as part of their contractual agreement.
Such warranties also provide peace of mind knowing that the quality of glass doors is assured from purchase through completion of installation.
Q: How Long Does It Take To Install Glass Doors?
A: While traditional wooden doors may require less of an installation time, the long-term costs associated with glass door installations can be far more beneficial to a NYC business.
Installation times for quality glass doors depend on many factors such as safety standards and complexity of construction, but a professional installer should typically be able to install new glass doors within a few hours.
Furthermore, choosing high-quality materials and experienced craftsmanship will ensure that your newly installed glass doors are kept in good condition for years to come.
Q: Are There Any Special Requirements For Installing Glass Doors In Nyc?
A: Installing glass doors in New York City has a few special requirements that must be met.
Safety regulations need to be followed, as the door should not pose any risk of harm to people who use it on a regular basis.
Additionally, if the business is located in an area with higher noise levels, soundproofing measures may have to be taken when installing glass doors to reduce the amount of outside noise coming into the building.
Overall, these additional steps are necessary for ensuring both safety and comfort for those using the glass doors.
Q: How Do I Get A Professional To Install The Glass Doors?
A: When it comes to finding contractors for the installation of glass doors in NYC, safety regulations must be taken into consideration. Professionalism and experience with local building codes should be a priority when evaluating potential contractors.
It is essential to thoroughly vet any contractor before signing an agreement in order to ensure that they are knowledgeable about both state and federal laws related to the installation of glass doors. Additionally, they should have a thorough understanding of standard practices and materials needed for the job so that it can be completed safely and efficiently.
Conclusion
Installing glass doors for your business in NYC will provide many benefits to you and your customers. Not only do they look great aesthetically, but they also offer a number of less obvious advantages as well.
A professional installation team can ensure that the job is done properly so that all these benefits are realized in full measure.
One overlooked benefit of installing glass doors is improved security. Thick panes of tempered or laminated glass create an impenetrable barrier between those inside and potential intruders outside, while still allowing natural light into the space within. In addition, modern door locks make it difficult for anyone without the proper access card or code to gain entry to the building.
"An ounce of prevention is worth a pound of cure" – this adage holds true when it comes to ensuring safety and protection with glass doors installed at your business in New York City.
Finally, another perk associated with installing additional glass doors at your business is increased energy efficiency. By adding more transparent surfaces throughout the building envelope, heat loss during colder months can be greatly reduced since windows let solar radiation pass through easily while preventing draughts from coming in around them. In warm weather, tinted glazing can help keep out unwanted ultraviolet rays which would otherwise cause indoor temperatures to rise too high and put strain on air conditioning systems unnecessarily.
For all these reasons, investing in professionally-installed glass door solutions makes sound financial sense for businesses located in NYC who want to reap their rewards now and over time into the future.

For all your commercial or retail door needs in NYC, Door Guys NYC is here to serve you. We're just a phone call away at (212) 983-0249. Contact us to schedule an appointment