Automatic door maintenance is an important part of operating a successful business in New York City. It requires attention to detail, careful monitoring and regular upkeep to ensure that all doors function properly, safely and efficiently.
In this guide, the reader will be provided with essential information on how to conduct routine automatic door maintenance for their NYC business. This guide covers topics such as identifying potential hazards associated with automatic doors, determining when repairs are needed and understanding the process of conducting proper maintenance.
Additionally, it outlines best practices for maintaining both interior and exterior automatic doors as well as tips for preventing common issues. By following these steps and guidelines, readers can successfully maintain safe and reliable functioning of their automatic doors in order to ensure optimal performance for their businesses.
Identifying Potential Hazards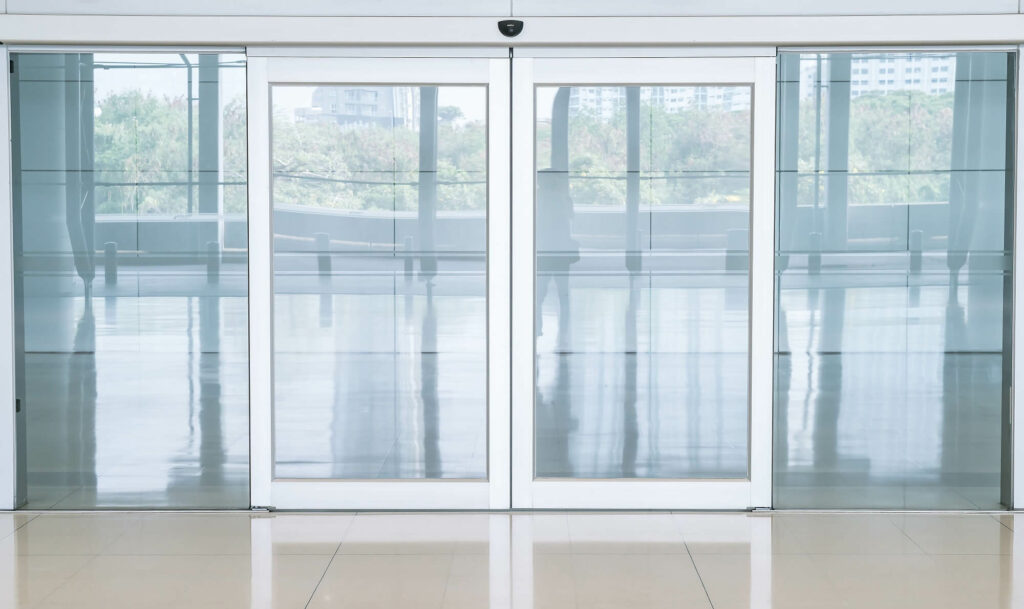 Automatic doors are a convenience for businesses, but they can also be dangerous if not properly maintained. Like any other piece of machinery, the potential hazards associated with automatic doors must be reviewed to ensure safety standards are met and that power outages don't cause unforeseen problems.
As an expert in automatic door maintenance, it is important to inspect all components on a regular basis in order to prevent accidents or malfunctions from occurring. From hinges and hardware to electric switches and sensors, each component must be checked thoroughly to make sure it is functioning correctly.
By taking these measures ahead of time, you can avoid costly repairs down the line and keep your customers safe while using your business's automatic doors. With this information in mind, we turn now to determining when repairs are needed.
Determining When Repairs Are Needed
When it comes to automatic door maintenance, diagnosing issues and performing preventative care is key.
There are several signs that can help you determine if your business's doors need repairs:
– If the door does not open or close properly, it may require repair or replacement of parts such as hinges, motors, or controllers.
– If there is visible wear and tear on the doors surface, this could be a sign that they need repainting or resurfacing.
– Unusual noises coming from the motor when opening and closing may indicate an issue with its internal components.
Timely identification of these signs will allow for swift action in order to ensure your business's doors remain operational.
Moving forward, proper maintenance should be conducted in order to keep them running smoothly over time.
Conducting Proper Maintenance
The importance of maintaining automatic doors cannot be understated. Studies have shown that the average lifespan of an automatic door is roughly ten years, and regular inspections combined with preventive measures can help extend its life expectancy well beyond this number.
As such, it is imperative for business owners in NYC to ensure their doors are regularly inspected as part of a maintenance plan. Regularly checking hinges, motors, sensors and other parts can identify potential issues before they become more serious problems requiring costly repairs or replacements.
To get the most out of your automatic door system and avoid unnecessary expenses, meaningful preventive maintenance must be undertaken on a consistent basis. With proper care and attention, businesses in NYC can keep their automated doors running smoothly for many years to come.
Now that we've discussed how to properly maintain your door system, let's move on to best practices for upkeep.
Best Practices For Maintenance
When it comes to automatic door maintenance for businesses in New York City, there are several key best practices that should be followed in order to avoid breakdowns and ensure the longevity of your doors.
These include:
– Inspecting all parts such as motors, sensors, hinges and locks regularly. This will help identify any issues before they become a bigger problem.
– Ensuring proper lubrication of moving parts on a regular basis – this helps reduce friction between components and keeps them running smoothly.
– Utilizing preventative measures like adding weather stripping or gaskets around exterior doors to keep out moisture and dirt which can cause corrosion over time.
– Scheduling professional inspections at least once per year with certified technicians so they can provide additional advice on how to maintain your system optimally.
By following these guidelines, you can rest assured knowing that your business' automated doors are being taken care of properly and efficiently.
Frequently Asked Questions
Q: What Is The Average Cost Of Automatic Door Repairs?
Ans: When it comes to determining the average cost of automatic door repairs, numerous factors must be considered.
These include the type of door installation and any preventative care that was done prior to repair.
Depending on these considerations, the cost of an automatic door repair could range from a few hundred dollars to several thousand dollars.
It is important to take into account all variables when estimating the price for an automatic door repair in order to make sure one is not overpaying or underpaying for such services.
Q: What Is The Best Type Of Automatic Door System To Install In A Nyc Business?
Ans: When it comes to selecting the best type of automatic door system for a NYC business, the most important factors are security protocols and door sensors.
According to research conducted by NYU's Automatic Door Maintenance Research Center in 2020, businesses that install doors with contactless sensing technology can reduce their chances of theft or other criminal activity by up to 80%.
This statistic alone should be enough to convince any business owner that investing in high-quality door sensors is an essential step when considering which type of automated door system to purchase.
Q: How Often Should An Automatic Door Be Inspected?
Ans: The frequency of automatic door inspections is an important factor in maintaining the efficiency and performance of a commercial system. As such, preventive maintenance should be conducted at regular intervals to ensure energy efficiency.
Generally speaking, it is recommended that doors are inspected every three months for optimal operation. During these inspections, operators should check all components of the system including its control panel, wiring connections and sensors. Additionally, any loose or broken parts must be replaced as soon as possible to avoid long-term damage or expensive repair costs.
Q: Are There Any Local Code Requirements That Must Be Adhered To When Installing An Automatic Door?
Ans: Installing an automatic door is a complex process that requires reviewing codes and adhering to local safety practices.
Understanding any code requirements is paramount when considering what type of system should be used, as it can help inform the choice of materials, installation techniques, and other aspects related to the project's success.
It is important for business owners in NYC to review all relevant codes before beginning the installation process so they can ensure their automatic doors are compliant with industry standards and regulations.
Q: What Is The Best Way To Ensure The Safety Of Employees And Customers When Using An Automatic Door?
Ans: Ensuring the safety of both employees and customers who utilize an automatic door is paramount.
To ensure safe usage, maintenance practices should be adhered to on a regular basis. This includes routine inspections prior to each use, which will help identify any potential issues and allow for prompt repairs before they can become hazardous.
Additionally, all personnel operating the automatic doors should receive proper training in order to understand how it works and what measures need to be taken in order to maintain its functionality and prevent accidents or injuries.
Following these steps will ensure that everyone using the automatic door does so safely.
Conclusion
The installation, inspection and maintenance of automatic doors are essential for the safety of employees and customers in a NYC business. Automatic door systems can be costly to repair if they are not properly maintained. It is important to select an appropriate system that meets local code requirements and is able to withstand frequent use.
Regular inspections should be conducted in order to ensure the functionality and safety of these doors. In addition, proper training must also be provided on how to safely operate automated doors. Employees should understand what parts need lubrication or adjustment, as well as when it is necessary to call a professional technician for assistance. This will help reduce potential risks associated with improper operation while increasing customer satisfaction.
Finally, by following best practices in terms of installation, inspection and maintenance, businesses can enjoy the numerous benefits offered by automated door systems without having to worry about expensive repairs down the line. Overall, ensuring that automatic doors are installed correctly and regularly inspected is key for any successful NYC business venture. With correct procedures in place from day one – such as selecting an appropriate system, providing employee training and conducting regular inspections – any business owner can rest assured knowing their automatic doors will provide years of efficient service at minimal cost.