Automatic doors are a vital component of any business in New York City. As such, it is important to understand the basics of automatic door repair and maintenance.
This article will provide an overview of common issues associated with automatic doors as well as outlining best practices for their repair and upkeep. It is essential that NYC business owners have a working knowledge of automatic door repair in order to ensure safe operation and efficiency within their businesses.
The purpose of this article is to provide information on all aspects related to the repair and maintenance of automatic doors, from basic troubleshooting techniques to more advanced repairs.
Topics covered include diagnosis of mechanical malfunctions, understanding safety features, installation services, and cost estimates for repairs.
In addition, readers will be equipped with the necessary information needed when hiring professional technicians to perform routine inspections or emergency repairs.
Common Automatic Door Issues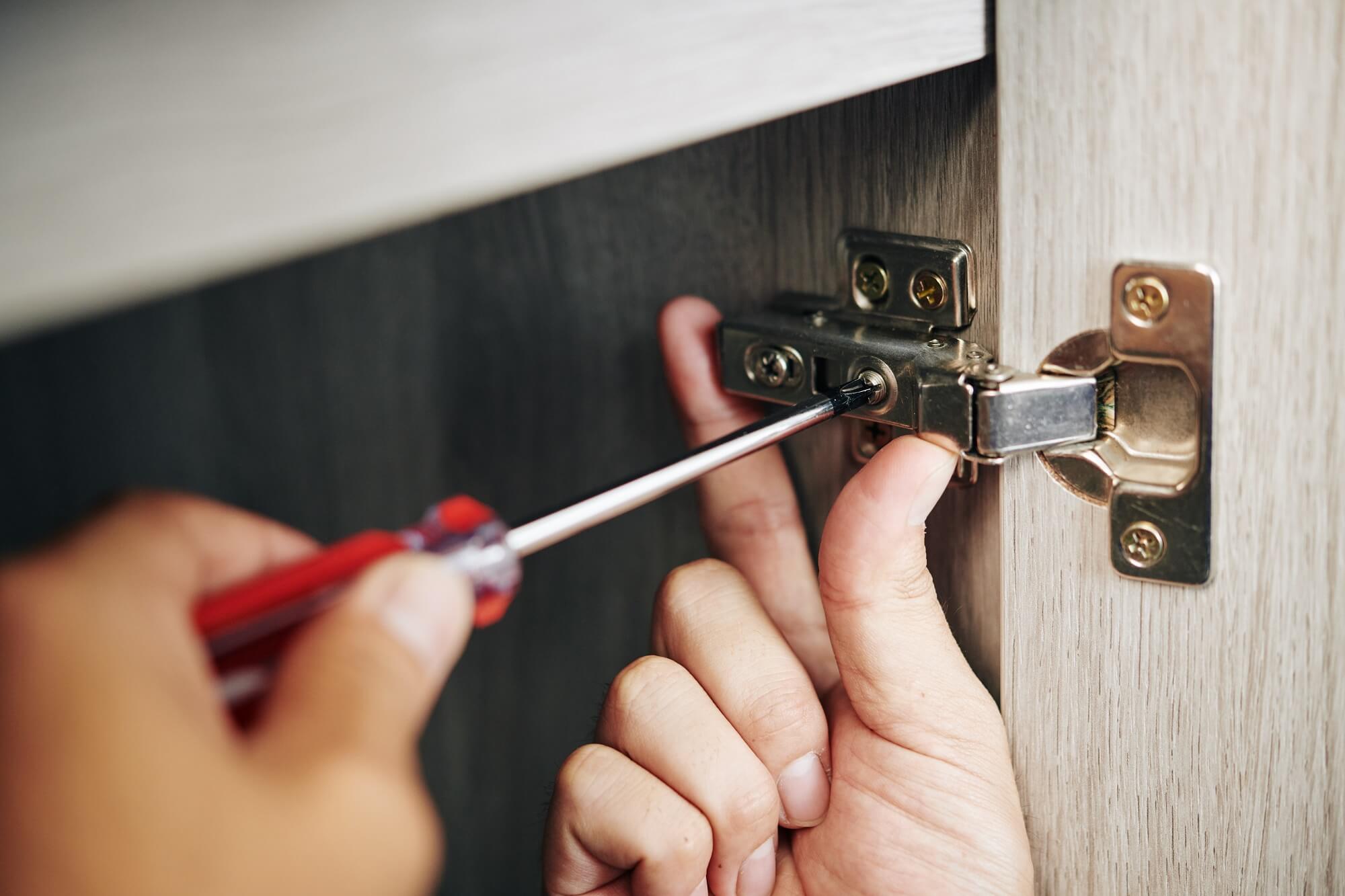 Automatic doors are becoming increasingly popular in businesses, however their operations are often taken for granted until a malfunction occurs. According to recent data, the average automatic door experiences problems at least once per year and can require costly repairs if not maintained properly.
As an automatic door repair specialist, it is important to be aware of common issues that arise with these types of doors as well as how they can be prevented through proper maintenance scheduling and regular malfunction detection tests. By doing so, business owners can save money on unexpected repair costs while ensuring customers have safe access into the building.
As such, understanding troubleshooting techniques is essential when dealing with potential malfunctions before they occur.
Troubleshooting Techniques
When it comes to troubleshooting automatic doors, preventative maintenance is key. This involves regularly checking and replacing door components such as hinges, locks, motors, tracks and sensors. Doing this will help ensure that the door operates optimally while also reducing the need for more costly repairs down the line.
Additionally, understanding a door's particular safety features can be beneficial in terms of avoiding any potential accidents or injuries related to malfunctioning equipment. As such, knowing which features are associated with each model is important for properly maintaining an automatic door system.
Transitioning into understanding these safety features is essential in order to guarantee safe operation of all automatic doors.
Understanding Safety Features
Automatic door repair for NYC businesses must include an understanding of safety features to ensure the security and well-being of all customers, employees, and visitors.
It is highly recommended that emergency protocols be established in order to plan ahead for potential breakdowns or malfunctions.
Additionally, preventative maintenance should be conducted regularly to avoid costly repairs down the road due to worn parts or other issues.
By taking these steps, businesses can rest assured that their doors are safe and functioning properly at all times.
To further enhance this protection, it is essential to consider installation services which provide additional layers of security.
Installation Services
When it comes to automatic door repair, preventative maintenance is essential for keeping the doors in good working order. Professional advice from qualified technicians can help business owners identify potential problems before they arise and keep their doors functioning optimally.
Regular inspections of all components are recommended to ensure that any issues or wear-and-tear are addressed swiftly. In addition, proper lubrication should be applied on a regular basis according to manufacturer instructions.
Taking these steps will help mitigate any repair costs in the long run. With this knowledge, business owners can move forward with confidence when seeking cost estimates for repairs.
Cost Estimates For Repairs
The cost of repairing an automatic door is dependent on a variety of factors, such as the age and condition of the door, how long it has been since it was last serviced, and the type of repair needed.
According to statistics from The Door & Access Systems Manufacturers Association (DASMA), over 35% of all problems with automatic doors can be attributed to lack or preventive maintenance.
Therefore, investing in regular maintenance services to inspect and lubricate components is an effective way for business owners to minimize costly repairs down the road while also increasing energy efficiency.
Additionally, due to the complexity of today's automated door systems, it is important for businesses to use certified technicians who have experience working specifically with their model and brand of automatic door system in order to ensure quality results.
Frequently Asked Questions
Q: What Kind Of Maintenance Should I Perform On My Automatic Door?
A: Timely inspection and professional advice are essential for the maintenance of automatic doors.
Business owners should periodically inspect their door's hardware, including rollers, hinges, tracks and any other components to ensure they are working properly.
Additionally, a certified technician should be consulted when repairs or replacements need to be made on the motors or electronic systems as these types of repairs can often require specialized knowledge and tools.
By following this proactive approach towards maintaining an automatic door system, business owners will be able to keep them functioning optimally for years to come.
Q: Are There Any Additional Costs Associated With Automatic Door Repair?
A: Maintaining an automatic door is like maintaining a car; preventive maintenance reduces the risk of expensive repairs and keeps safety standards up to date.
When it comes to additional costs associated with automatic door repair, these can vary depending on the severity of damage or lack of preventative maintenance.
Most often, businesses will incur higher costs when their doors are not regularly serviced by a certified technician who is familiar with all relevant safety standards.
Having regular check-ups for your automatic door ensures that any minor issues are addressed before they become more severe problems down the line.
Q: What Type Of Company Should I Hire To Repair My Automatic Door?
A: When looking to hire a company for automatic door repair, it is important to consider cost comparison and safety considerations. Quality of work should be the primary factor when choosing an automatic door repair specialist; however, price can also have an impact on the final selection.
It is recommended that business owners obtain multiple quotes from experienced professionals in order to ensure they are receiving competitive pricing while still maintaining high-quality service. Additionally, it is essential that businesses vet any potential candidates by requesting proof of insurance coverage as well as confirming the contractor's experience with similar projects in the past.
Doing so will help minimize risk and increase satisfaction with both the job completion and overall experience.
Q: Are There Any Special Requirements To Install An Automatic Door In Nyc?
A: Installing an automatic door in New York City is like a puzzle; it requires careful consideration of safety precautions and service contracts.
For business owners, there are several steps to take prior to installation that must be followed in order to ensure compliance with local regulations. It is important for NYC businesses to understand the importance of hiring a reputable repair company who has experience working with automatic doors in the city.
They should also look into any special requirements or permits needed before making any decisions on what type of door they want installed. Finally, make sure that you have a good service contract from your chosen provider so that all repairs and maintenance needs are taken care of promptly and professionally.
Q: Do I Need To Obtain Any Special Permits To Install An Automatic Door In Nyc?
A: The installation of an automatic door in New York City requires the business owner to obtain certain permits due to safety regulations.
This is because there are costs involved that must be taken into consideration, such as additional labor and materials for proper installation and maintenance.
Depending on the type of automatic door being installed, the exact specifications may vary; however, all installations must adhere to the relevant local building codes for safety standards.
Business owners should consult a professional with experience in automatic door repair prior to beginning their project in order to avoid any potential issues or complications.
Conclusion
Automatic door repair is an important part of ensuring that business owners in NYC are able to keep their doors functioning properly and securely.
As with any maintenance task, it is important to understand all the details associated with automatic door repair, including what type of company should be hired for repairs and whether there are special requirements or permits needed to install a new door. By taking the time to research these topics ahead of time, business owners can better prepare themselves for unexpected issues related to their automatic doors.
In addition to researching these topics prior to repairing or installing an automatic door, businesses must also pay attention to daily maintenance tasks such as cleaning tracks and checking sensors. While proper upkeep may seem like a hassle at times, it can save considerable amounts of money by potentially preventing costly repairs down the line.
A savvy business owner will take the necessary precautions now so they don't have to worry later on. Finally, having a reliable team of professional technicians available for emergency calls is another great way for companies in NYC to ensure smooth operation of their automatic doors. With knowledgeable specialists readily accessible around-the-clock, businesses can rest assured knowing that even if something unforeseen arises with their automatic doors, help is just a quick call away.
Allusioning towards these services provides peace of mind and allows business owners more time to focus on other matters within their organizations.