Automation technology is increasingly becoming an integral part of the modern business landscape. Automatic doors provide a number of advantages to businesses, including increased safety and convenience for customers, as well as improved energy efficiency.
This article by Door Guys NYC examines the current state of automatic door installations in New York City and explores what this could mean for the future of commercial entryways.
Automatic doors have become commonplace in many aspects of our lives, from supermarkets to office buildings. In recent years, they have been gaining popularity among business owners looking to improve customer experience while also reducing operating costs.
By taking advantage of automation technology such as motion-activated sensors and advanced locking systems, access control specialists are able to create secure and efficient automated entrances that increase security and save energy without sacrificing ease-of-use or convenience.
Benefits Of Automatic Doors
Automatic doors are increasingly becoming a requirement for businesses as they offer substantial benefits in terms of energy savings, noise reduction and improved security.
According to the U.S Department of Energy, an average automatic door can save up to 26% more energy than manually operated ones. This results in significant cost savings for businesses over time.
Automatic doors also reduce external noise levels significantly when compared to manual doorways, making them ideal for establishments located near busy streets or noisy areas.
Automation technology is continuing to improve the level of security that these entryways provide by introducing features like facial recognition systems and biometric access control capabilities.
The combination of secure access with user convenience, energy and sound efficiency makes automatic doors an ideal choice for business entryways into the future.
As such, it's no surprise that many cities are turning towards this modern solution for their local commercial buildings.
Automation Technology For Improved Security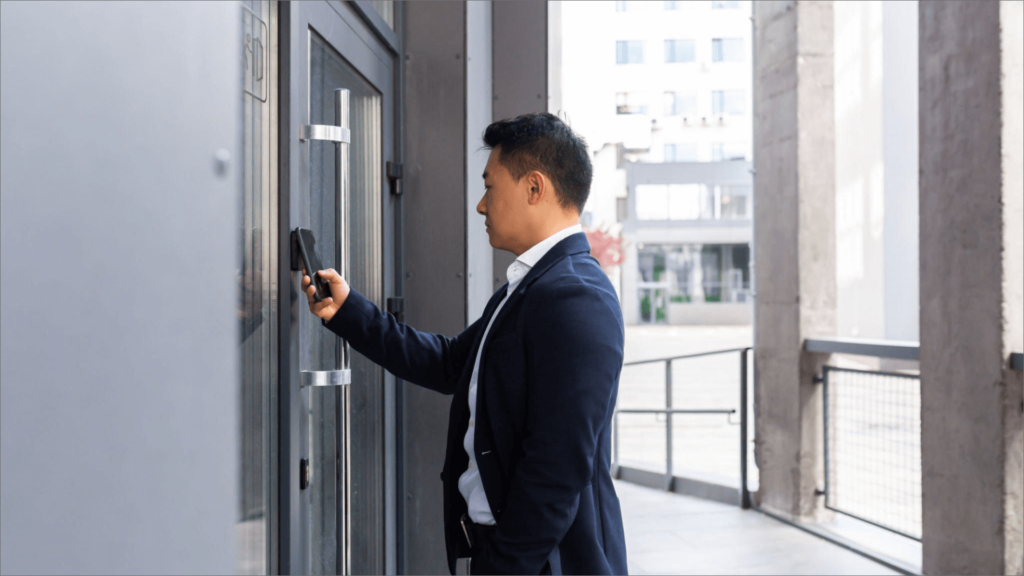 The introduction of automated entryways has provided a variety of benefits to businesses. However, with increased access control options available, it is important for businesses to consider the security aspect that automatic doors can provide.
Smartphone access and access control systems are just two examples of technological advancements in automation technology that can improve business security. These solutions allow businesses to limit who enters their premises and when they enter, while also being able to track any data related to entries such as identification or authentication records.
Moreover, by implementing motion-activated sensors, businesses can further increase efficiency as doors will automatically open upon approach without requiring manual intervention from staff members or customers. This not only reduces wait times but also promotes social distancing measures which have become increasingly relevant during the current pandemic climate.
Such sensor-based technologies enable businesses to reduce operational costs associated with staffing door personnel since there would be no need for additional employees if an automated system is set up correctly.
Motion-Activated Sensors For Enhanced Efficiency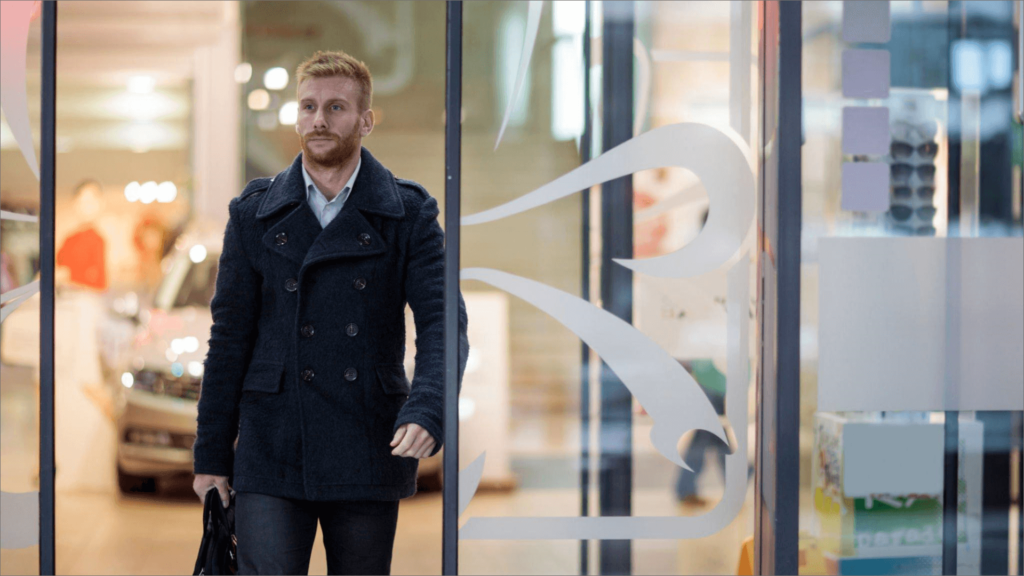 The age of motion-activated sensors is upon us, revolutionizing the way businesses control their entryways. It's like unlocking a doorway to an entirely new world – one filled with energy conservation, enhanced customer experience, and unprecedented efficiency. With these groundbreaking features, automated entryways are truly changing the game:
They can be programmed to detect people entering or leaving the premises;
Door openers allow customers to enter without having to touch any surfaces;
Motion activated sensors reduce electricity consumption by decreasing standby power;
Automated doors improve safety by eliminating potential theft risks.
From increased convenience for customers to heightened security measures, automatic door systems represent a powerful tool for businesses looking to stay ahead of the curve in terms of access control technology. As we move forward into this new era of business entryway automation, it is clear that the cost savings associated with such solutions will make them even more attractive options for companies worldwide.
Cost Savings Of Automated Entryways
The installation of automated entryways provides numerous cost savings benefits for businesses. An important factor to consider is the energy savings it offers, as these systems require very little power and can be programmed to turn on only when needed.
Automated door openers also offer safety features due to their ability to detect motion and unlock doors only at certain times or in response to an authorized access code. Additionally, they are able to operate more efficiently than traditional manual-style doors, leading to a reduction in labor costs associated with manually opening and closing them.
This efficient operation allows businesses to save money while increasing security and convenience. As such, automated entryways provide a viable option for business owners looking for ways to reduce operational costs without sacrificing customer service or security.
Transitioning into the future, automatic doors in NYC will continue to play an integral role in providing safe and secure entry points for consumers and employees alike.
The Future Of Automatic Doors In Nyc
Automatic doors in NYC have the potential to revolutionize business entryways. With a focus on smart access, energy optimization and convenience, these automated technologies can provide cost savings for businesses while improving safety and security.
Smart access is possible with card readers or biometric sensors that can recognize authorized personnel without manual intervention. Energy optimization technology enables automatic doors to open only when someone approaches them and close shortly after they pass through. This helps conserve electricity by reducing the amount of time an entrance is opened.
In addition, automated entryways are convenient since they require no manual operation; all one needs to do is approach the door and it will automatically open allowing passage into the building. Automated door systems offer numerous benefits to businesses across New York City, from lower costs to improved security measures – making them a viable option for entryway solutions now and in the future.
Frequently Asked Questions
Q: Are Automatic Doors Suitable For All Businesses?
A: The use of automatic doors is a rapidly growing industry, with many businesses now opting to install them for their entryways. As such, the question must be asked: are these automated systems suitable for all types of businesses?
From an automation and access control specialist's perspective, there are several considerations that need to be taken into account when deciding whether or not to implement this technology in any given business setting. On one hand, the energy efficiency and financial costs associated with automatic door installations can provide impressive long-term gains. On the other hand, some businesses may have unique operating procedures or space restrictions which could make installing and using automatic doors impractical or impossible.
In short, while automated entryways offer numerous advantages they should only be considered after careful consideration has been applied to the specific needs of each individual organization.
Q: What Safety Measures Are In Place When Using Automatic Doors?
A: When discussing the safety measures in place for using automatic doors, it is important to understand the security protocols and power sources which are involved.
Automation and access control specialists must ensure that all necessary precautions are taken when installing an automatic door system into a business, such as making sure there is proper wiring of motion sensors and adequate power to allow the automated door to move freely.
Furthermore, additional security measures should be put in place, such as keypad entries or card readers, to further increase the level of protection against unauthorized entry.
Q: How Much Maintenance Is Required For The Upkeep Of Automatic Doors?
A: The future of business entryways lies in the hands of automatic doors, and their upkeep requires a certain level of maintenance to ensure cost effectiveness and energy savings.
Automation and access control specialists are tasked with understanding the necessary steps for proper upkeep, from regularly inspecting locks and hinges to replacing worn-out parts or broken systems.
With careful attention to these details, businesses can rest assured that their automated entrances will remain reliable for years to come.
Figuratively speaking, an investment in automatic door maintenance is one that pays off in both security and efficiency.
Q: Is There Any Additional Training Required To Operate Automatic Doors?
A: When considering the use of automatic doors, a key factor is whether or not there is any additional training required to operate them.
In general, most automated door systems are designed for ease of access and require minimal effort from the user, making it unnecessary for extra instruction when using these entryways.
Most operators only need basic understanding of how to open and close the door as well as how to program access control devices such as card readers and remote sensors.
As an added benefit, due to their energy-efficient design, no specialist knowledge is needed in order to reap the cost savings that come with operating automatic doors.
Therefore, those utilizing this technology can expect both convenience and financial gain without requiring further education on its operation.
Q: Are There Any Special Requirements For Installation Of Automatic Doors?
A: To answer this question, it is important to consider energy efficiency and cost savings. As an automation and access control specialist, I can assure you that there are several factors which must be taken into account when installing an automatic door system.
These include:
– Electrical power supply
– Structural integrity of the building or area where the door will be installed
– Air pressure in order to ensure proper functioning
– Access control systems such as alarms, card readers or facial recognition software.
Conclusion
Automatic doors are a beneficial addition to businesses in NYC, offering convenience and safety for both customers and employees. Their technology provides an efficient way to control access while also allowing easy movement of people and goods through the entryways.
The installation requirements are straightforward; however, all necessary steps must be taken to ensure that they work properly and safely. This includes making sure regular maintenance is done as needed on the system, along with providing any additional training required for operation.
Furthermore, it's essential to consider the potential risks associated with automatic door use when selecting them for any business location.
Overall, automated entryway systems offer numerous advantages that can make managing a business easier and more secure. From their energy-saving capabilities to their ability to provide convenient access control solutions, there are many reasons why these types of doors should be considered for modern day business entryways in NYC.
With proper installation and ongoing maintenance from Door Guys Nyc, such systems can benefit businesses by saving time and money while increasing security levels.

Door Guys NYC is conveniently located to provide any commercial or retail door services you require in NYC, and we are always ready to come to your doorstep. You can contact us at (212) 983-0249 to schedule an appointment at your convenience.