Door installation is an important task and requires a professional to ensure it is done correctly. Hiring a professional door installation company in NYC can provide numerous benefits to the homeowner or business owner.
Professional door installers have expertise and experience that allows them to complete the job safely and efficiently. They are knowledgeable about building codes and regulations as well as best practices for successful door installations.
Moreover, they have access to specialized tools that enable them to properly measure, fit, cut, and secure doors into frames with precision accuracy. By utilizing their expert skills, individuals looking for door installation services in NYC can benefit from cost savings due to reduced labor time, fewer mistakes during the process, and improved longevity of the final product.
Expertise And Experience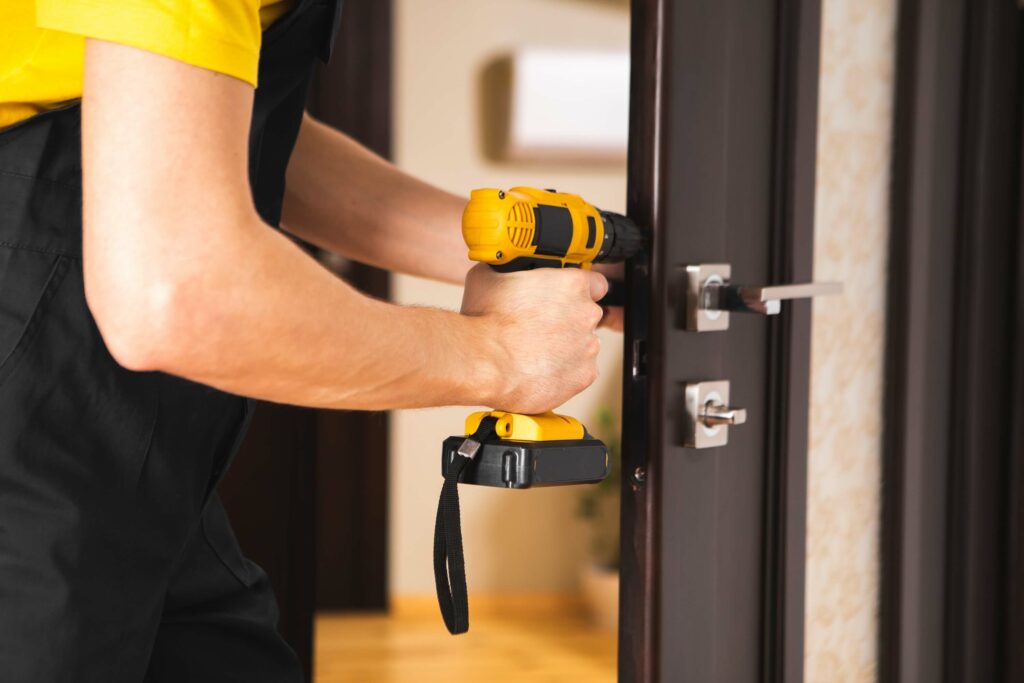 When it comes to door installation, expertise and experience are essential.
Professional companies in NYC have the resources and personnel needed to accurately install doors without compromising on quality or time efficiency.
They employ experienced technicians who understand all aspects of door installation and can guarantee that a job is done correctly.
Furthermore, such professionals are aware of any local regulations regarding building codes which help ensure an accurate, compliant installation.
The knowledge they possess makes them ideal for any door installation job; this includes both residential and commercial applications.
Moving forward, understanding the importance of adhering to established building codes and regulations is integral when selecting a professional door installer in NYC.
Knowledge Of Building Codes And Regulations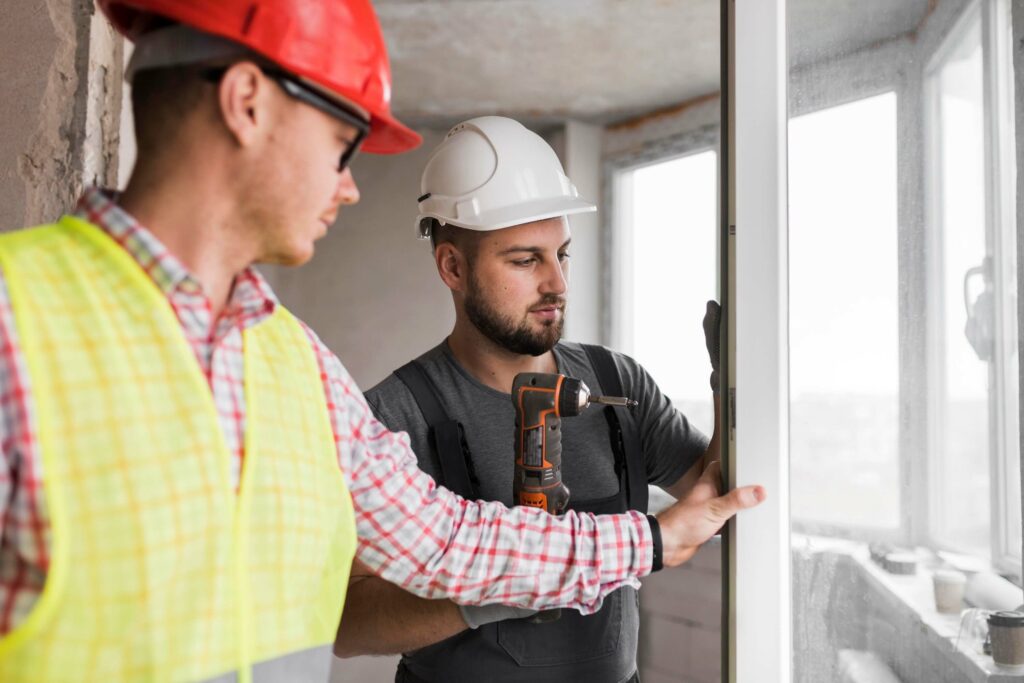 When it comes to installing a door in NYC, the importance of employing a professional installation company cannot be overstated. With their expertise and experience, these professionals will ensure that every aspect of your project is done with precision and excellence. From obtaining proper permits to passing safety inspections, they have the knowledge and resources needed to get the job done right – every single time.
Some key advantages include:
Knowledge of building codes and regulations
Access to specialized tools for precise measurements
Ability to complete projects quickly without compromising quality
In addition, you can rest assured knowing that the team has extensive experience working with different types of doors from major brands like Andersen, Pella, Masonite, JELD-WEN, etc., so you'll end up with an outstanding result that looks great and functions perfectly.
With this level of commitment to customer satisfaction, choosing a professional door installation company in NYC makes perfect sense.
Access To Specialized Tools
A professional door installation company in NYC will have the right tools and techniques to ensure that your doors are properly installed. They can guarantee correct measurements for a perfect fit, as well as use proper techniques such as shimming to keep everything level and even.
With access to specialized tools, they can install any type of door quickly and efficiently with minimal disruption or mess. This ensures that you get a great result without spending too much time or effort on the job.
Moreover, it allows for cost savings and improved longevity due to correctly fitted doors.
Cost Savings And Improved Longevity
Investing in professional door installation can be a wise decision for homeowners looking to save time and money. With an expert's help, you can increase the longevity of your doors while ensuring quality materials are installed correctly.
Here are four key benefits that should have you knocking on the door of a professional:
Time Efficiency – Professional installers understand the process and use their knowledge to complete jobs quickly.
High Quality Materials – A reputable installer will only use high quality products like durable hinges or secure locking mechanisms.
Cost Savings – Knowing how to purchase and install efficiently helps keep costs down over the long run.
Improved Longevity – Professionals know exactly how to install fixtures so they last longer than if done by someone without experience.
With these benefits in mind, it is clear why investing in reliable door installation from an experienced team is worth considering before tackling projects yourself.
Frequently Asked Questions
Q: What Is The Typical Turnaround Time For A Professional Door Installation?
Ans: A professional door installation typically requires an advanced level of preparation and technique. The amount of time required for the project depends on various factors, such as the complexity of the task at hand and the methods used in installation.
Generally speaking, a standard installation can take anywhere from one to two days, while more complex installations may require additional preparation time. In order to ensure proper execution, it is essential that all preparations are made prior to beginning any sort of work. This includes ensuring that there are no underlying issues with either the existing structure or materials being used.
Experienced professionals should be able to provide accurate estimates regarding turnaround times based on their experience and familiarity with the job scope.
Q: Are There Any Additional Fees Or Costs Associated With The Installation?
Ans: When considering a professional door installation, it is important to be aware of any additional fees or costs associated with the project.
These may include cost estimates for materials and labor, as well as installation quotes from contractors.
It is wise to get an accurate estimate prior to signing any contracts in order to ensure that all expenses are accounted for ahead of time.
Professional door installers will typically provide detailed breakdowns of all possible charges so that customers can make informed decisions about their projects.
Q: What Safety Protocols Are In Place During The Installation Process?
Ans: Professional door installation companies take job site safety protocols seriously. Certified technicians are trained to properly install doors while following all applicable regulations and industry standards in order to ensure the highest level of safety for those onsite.
These measures include proper use of tools, materials, and personal protective equipment (PPE) as well as adhering to social distancing guidelines when necessary.
Q: Is There A Warranty Or Guarantee On The Door Installation?
Ans: A professional door installation company in NYC provides an unparalleled level of assurance when it comes to the quality and methods used for installation. Offering a seemingly insurmountable guarantee on their work, these experts are guaranteed to leave you with nothing short of perfection; even going so far as to provide a warranty that is practically unheard-of in this industry.
This kind of commitment to excellence ensures peace of mind knowing that your door will be installed correctly and offer years' worth of reliable service. With such high standards for door quality and installation methods, customers can rest easy knowing that they have made the right choice in enlisting the help of a top-notch door installation expert.
Q: Are There Any Discounts Or Incentives Available For Using A Professional Door Installation Company?
Ans: Professional door installation companies often offer discounts and incentives to customers as an additional benefit of using their services.
Customer service is a priority for these companies, so they may include special offers such as reduced installation costs or extended warranties on their products.
Depending on the company, other perks offered could range from free consultations to discounted materials.
In any case, it is important for customers to review all available options before selecting a professional door installation company to ensure that they are getting the best deal possible.
Conclusion
The decision to use a professional door installation company in NYC is one that should not be taken lightly. The level of expertise and quality of craftsmanship provided by these professionals can make the difference between an average job and a great job.
Not only are you getting a top-notch product but also peace of mind knowing the work was done right and with safety protocols in place. Not to mention, many companies provide warranties on their products so if something were to go wrong or not meet your expectations, they have you covered.
Furthermore, most offer discounts or incentives for using them as well which adds even more value to the experience. All of this combined makes choosing a professional door installation service provider in NYC a no brainer – it 'pays off' in the long run!
Ultimately, when selecting any kind of contractor for home improvement services it's important to do your research and ask questions about time frames, fees, guarantees, etc., before making a commitment. With all factors considered though, working with a qualified professional door installation company makes perfect sense for anyone looking for superior results at an affordable price.