Fire rated glass doors are an important component of any fire safety system in a New York City business.
These specialized doors can stop the spread of smoke and flame while providing visibility to occupants during emergency evacuations.
The use of fire rated glass doors has become increasingly commonplace due to their ability to provide protection against flames, smoke and toxic fumes produced by fires.
With proper construction and installation, these doors remain intact even when exposed to extreme temperatures, allowing them to protect building occupants from the dangers associated with fire.
Moreover, they can often be used without compromising the aesthetic appeal of a space or altering floor plans, making them ideal for businesses seeking unobtrusive fire prevention solutions.
Fire Safety Regulations In Nyc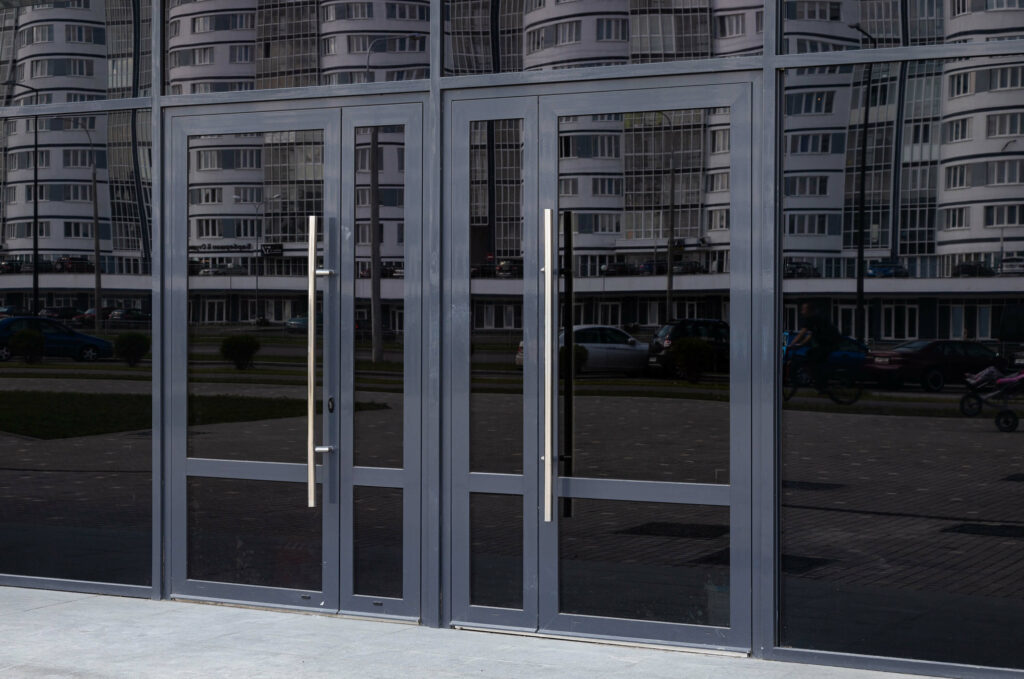 Fire safety regulations in NYC are contained within the fire code and building codes of the city. These codes contain a variety of guidelines that must be followed to ensure adequate protection from potential fires, including detailing specific construction requirements for buildings such as fire-resistance ratings, sprinkler systems, emergency lighting, smoke barriers and control systems, exit routes and signage, among others.
It is important to understand these regulations in order to maintain compliance with all applicable standards related to fire safety. To further enhance this knowledge base, it is also beneficial to gain an understanding of how fire rated glass doors can be used as part of a comprehensive risk mitigation strategy for businesses located in New York City.
Understanding Fire Rated Glass Doors
Fire rated glass doors are an integral part of fireproofing solutions for businesses in NYC. In the event of a fire, these doors serve to contain and limit spread of smoke and flames within building spaces.
Fire rated glass doors must be installed according to local codes and regulations, which require certain minimum standards for safety measures such as door opening direction, width clearance, hardware type, etc.
Furthermore, emergency planning should include provisions for proper installation and maintenance of these doors to ensure optimal performance during emergencies. These requirements are essential in providing adequate protection against fire hazards in any business environment.
Understanding how fire rated glass doors work is important when considering their advantages and benefits for your business.
Advantages Of Fire Rated Glass Doors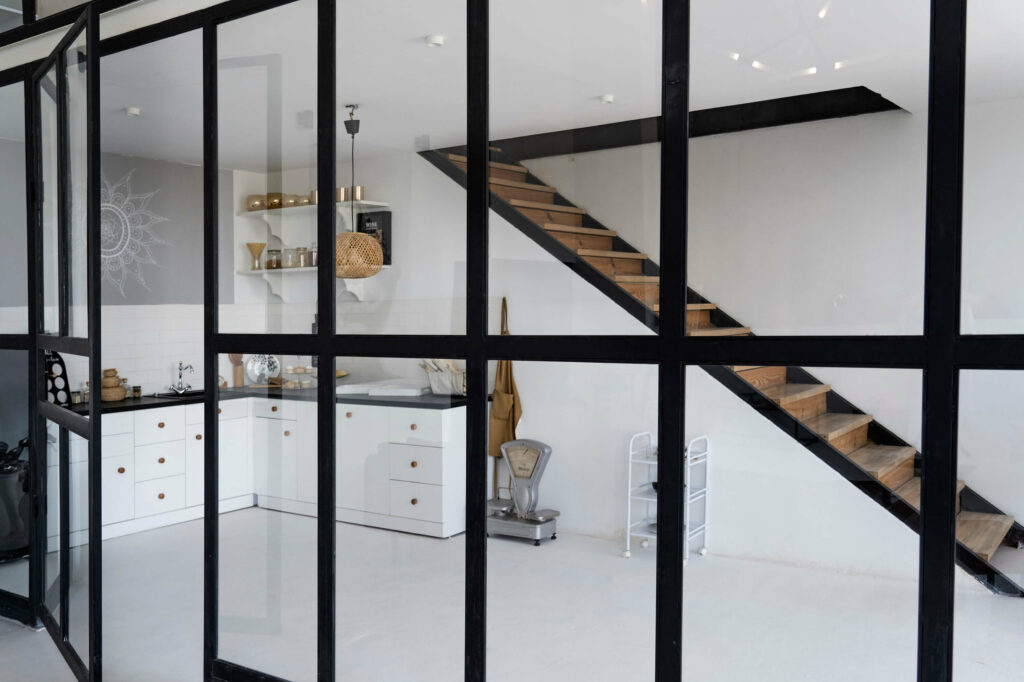 Fire rated glass doors are an essential component of any fire protection or safety strategy for businesses in NYC. These products offer a range of benefits, including:
Improved Fireproofing: Fire rated glass doors can help to protect against the spread of smoke and flames, as they have been designed with specific fire-resistant materials and techniques that make them more resistant than standard models.
Energy Efficiency: By using high-performance insulated glazing systems, these types of doors can reduce energy losses by up to 50% when compared to regular single pane doors. This helps businesses save money on their energy bills while also reducing their environmental footprint.
The advantages offered by fire rated glass doors provide business owners with greater peace of mind knowing that their property is well protected from potential fires. With proper installation and maintenance, these products allow companies to meet local codes and regulations regarding fire safety standards. Knowing how to select the right door for your business will ensure that you get maximum protection at an affordable cost.
How To Select The Right Fire Rated Glass Door For Your Business
Selecting the right fire rated glass door for your business is critical in ensuring that your building meets all necessary fire rating requirements, while not breaking the bank.
When choosing a door for installation, it's important to consider both its cost and the amount of protection it provides against smoke, heat and flame spread. It should be noted that higher-rated doors may come with an increased price tag; however, this can be counterbalanced by their greater level of safety during emergency situations.
Furthermore, when weighing up possible options, it's essential to pay attention to door installation costs as they can vary significantly depending on the complexity of the job at hand.
All factors considered, if chosen carefully, fire rated glass doors can provide a secure yet aesthetically pleasing solution for businesses looking to increase their fire safety measures without having to compromise on budget.
Frequently Asked Questions
Q: How Much Does A Fire Rated Glass Door Cost?
Ans: The cost of a fire rated glass door varies depending on the size, type and installation process.
The regulations for installing such doors in NYC require that all materials used must meet certain standards to ensure safety for buildings located within city limits.
It is important to consider the complexity of the installation process as this can significantly affect the overall price of the fire rated glass door.
In addition, costs may also be impacted by factors such as labor fees and additional features that could be added to enhance performance.
Q: Does A Fire Rated Glass Door Provide Any Insulation?
Ans: Fire rated glass doors are often a key component of fireproofing techniques for NYC businesses. Their primary purpose is to provide protection from the spread of flames, smoke, and toxic gasses in the event of a fire emergency.
However, these doors can also offer additional benefits such as insulation depending on the design and construction materials used. Generally speaking, fire safety standards require that all components used in constructing a door meet specific criteria for thermal resistance and durability.
This means that when designed correctly, a fire rated glass door should be able to provide some level of insulation while still meeting code requirements for maximum flame penetration times under standard testing conditions.
Q: Is It Possible To Retrofit An Existing Door To Be Fire Rated?
Ans: Retrofitting an existing door to be fire rated is a feasible option, depending on the type of construction and materials used.
Fireproofing materials can be applied to the existing door structure in order for it to comply with test standards established by governing organizations such as Underwriters Laboratories (UL) or Factory Mutual Research Corporation (FM).
However, this must also take into account any applicable building codes that may exist in order to ensure proper installation and functionality.
Q: How Often Should A Fire Rated Glass Door Be Inspected?
Ans: Fire rated glass doors must be inspected regularly to ensure that they are in compliance with fireproofing requirements. Inspection standards should include a thorough review of the door and its components, such as seals, glazing materials, frames and hardware.
An experienced fire protection engineer or fire safety consultant can inspect the door for any damage or wear, which could potentially reduce the effectiveness of the door's ability to contain a fire. The frequency of inspections needed will depend on factors such as age, usage, environment and level of exposure to potential sources of heat or flame.
Q: Are There Any Fire Rated Glass Door Designs That Are Aesthetically Pleasing?
Ans: Aesthetically pleasing fire rated glass door designs are a key consideration when it comes to fire safety.
As an experienced fire protection engineer or consultant, one must evaluate the available design options and consider their impact on the overall aesthetic of any given space.
Fire rated glass doors come in various shapes, sizes and colors, allowing for creative solutions that ensure both effective fire safety as well as aesthetically pleasing results.
When selecting these types of doors, factors such as visibility, style and durability should be taken into account to find the perfect balance between form and function.
Conclusion
The use of fire rated glass doors can be an integral part of a business's safety and security plan. They provide the necessary protection to safeguard both personnel and property in the event of a fire or other emergency situation.
By providing this type of barrier, businesses are able to maintain their operations while protecting those on the premises from potentially hazardous conditions. The cost associated with installing fire rated glass doors is minimal when compared to the potential losses that could occur without such measures being taken.
Additionally, many designs offer insulation benefits as well as aesthetic appeal. Retrofitting existing doors to become fire-rated is also possible depending on the specific needs of each organization. To ensure that all components remain compliant with local requirements for fire safety, it is recommended that inspections be conducted at least once every two years by qualified professionals who specialize in this area.
Fire rated glass door installations must meet stringent standards in order to protect people within buildings from danger due to fires or emergencies. The symbolism behind having these doors installed speaks volumes about a company's commitment towards safeguarding its assets and employees alike.