Steel doors are an ideal choice for businesses in New York City. They offer a number of benefits that make them invaluable to any business owner looking to protect their assets and property from potential risks, such as theft or vandalism.
Steel doors are extremely durable, providing long-term protection against elements like weather and fire. Additionally, steel doors provide the highest level of security available on the market today, making it difficult for intruders to gain access to your facility or property.
This article will explore the various advantages of choosing steel doors for NYC businesses.
Durability And Resistance To Elements
Steel doors are an ideal choice for businesses in NYC, as they offer long-term protection against the elements and noise cancellation.
Durable steel construction ensures that these doors can withstand extreme weather conditions, from heavy snowfall to powerful winds, while also providing insulation from outside noise such as traffic or other disturbances.
Furthermore, superior craftsmanship of modern steel door models provides a level of security that is unrivaled.
As such, investing in steel doors will be beneficial for any business looking for reliable protection and peace of mind.
Moving forward, it's clear why superior security should be considered when selecting the right type of door.
Superior Security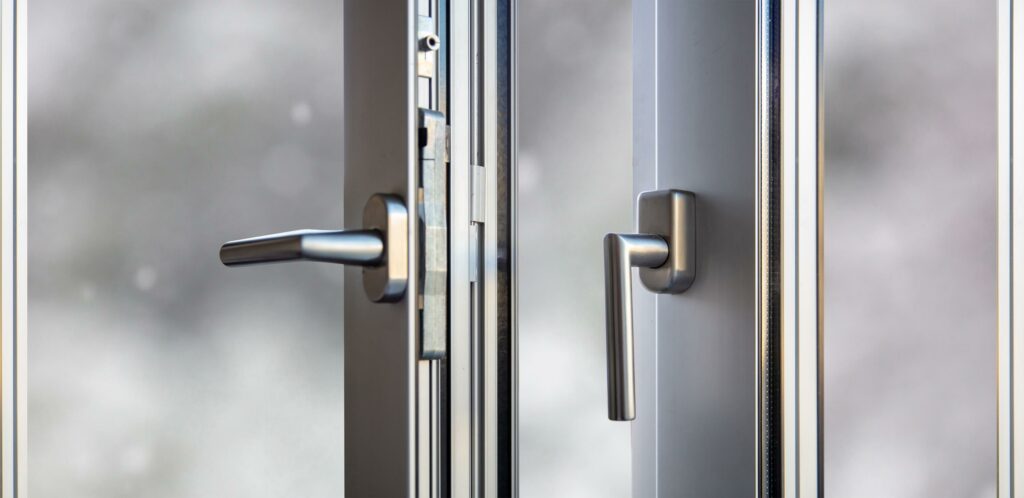 Steel doors offer enhanced protection for businesses and are more secure than other materials.
In addition to their superior security, steel doors provide aesthetic appeal which makes them a popular choice among business owners in NYC. They are available in various styles and colors that can suit any décor and add value to the property.
Steel doors also have an anti-rust coating that helps maintain its strength and integrity over time while resisting damage from harsh weather conditions. Moreover, they are resistant to break-ins from thieves due to their robust construction, providing greater peace of mind for business owners.
With all these benefits combined, it is clear why steel doors are one of the top choices for businesses in New York City.
Moving on to fire resistance, this material has long been used as a reliable protective measure against flames and heat.
Fire Resistance
Steel doors are like a sturdy fortress, providing strong protection against fire and other hazards. Fire resistance is an especially important feature of steel doors, as they are designed to withstand high temperatures and contain the spread of smoke and flames for up to three hours in order to protect lives and property.
Additionally, steel doors provide excellent noise reduction from outside sources such as traffic or nearby construction activity; this helps create a quieter environment that can help boost energy efficiency within your business. Steel door technology also provides businesses with quality insulation properties which further contributes to improved energy savings over time.
As such, investing in steel doors ensures that your NYC business will be well-equipped with reliable measures for fire safety and sound control while helping you save on energy costs.
Cost-Effectiveness
Steel doors are an excellent choice for businesses in NYC due to their cost-effectiveness. They provide:
Lower maintenance costs compared with other door materials, reducing the need for frequent repairs and replacements
Improved energy efficiency, helping to keep operating costs low and reduce environmental impact
Durability that stands up to harsh weather conditions better than wood or fiberglass
Advanced security features such as locks and deadbolts, offering greater protection against intruders
Aesthetic appeal that can help boost a business's curb appeal.
All of these attributes make steel doors one of the most economical options when it comes to protecting your business from outside elements while keeping operational costs down.
Frequently Asked Questions
Q: What Is The Lifespan Of A Steel Door?
Ans: Steel doors are renowned for their longevity, with the average lifespan of a good quality steel door ranging from 20 to 30 years.
Rust prevention is an important factor in ensuring that your steel doors last longer than this and should be considered when selecting products.
Steel doors offer superior fire safety benefits compared to other materials used for commercial building doorways.
Thus, it is safe to say that investing in a steel door will provide you with long-term security and durability as well as peace of mind knowing that it meets all necessary fire safety regulations.
Q: How Much Does A Steel Door Cost?
Ans: Steel doors are a great choice for businesses looking to increase their security, fire protection and overall durability.
The cost of steel doors can vary significantly depending on size, finish, insulation and other features.
Generally speaking, an average commercial steel door will range anywhere from $500 – $2,000 per unit plus installation costs.
Higher quality custom-made steel doors with higher end finishes such as stainless steel may be more expensive but often provide added value in terms of increased security benefits and better fire protection.
Q: Is A Steel Door Easy To Maintain?
Ans: Steel doors are a popular choice for businesses in NYC due to their ease of maintenance and durability.
The paint resistance of steel doors makes them ideal for withstanding harsh environmental conditions, eliminating the need for frequent repainting.
In addition, these types of doors provide excellent noise reduction benefits making them suitable for use in any environment where sound control is necessary.
With minimal upkeep that requires only occasional cleaning and lubrication, it is easy to maintain steel doors over time, ensuring they remain an effective security solution.
Q: Are There Any Additional Features Available With Steel Doors?
Ans: Steel doors are an excellent choice for your business in NYC, and come with a variety of additional features that can be tailored to ensure maximum security.
To kick off the list is the inclusion of advanced security features such as deadbolts, steel frames, and other locking mechanisms which 'lock down' any property they are installed on.
Fire ratings also often accompany steel doors, giving businesses peace of mind that their premises will remain safe in the event of a fire.
As the old adage goes: 'an ounce of prevention is worth a pound of cure', so investing in these extra features now could save you time and money further down the line.
Q: Are Steel Doors Energy-Efficient?
Ans: Steel doors are known to be energy-efficient due to their ability to provide superior waterproofing and noise reduction.
The composition of steel makes it an excellent material for insulation, meaning that it is able to keep warm air in during the winter months, while keeping cool air inside during summer months.
This helps reduce energy costs associated with heating or cooling a space by creating a barrier against extreme temperatures.
Additionally, steel doors can also help absorb sound from outside sources, further reducing energy costs associated with additional ventilation systems needed for sound dampening purposes.
Conclusion
The durability and longevity of steel doors make them an ideal choice for businesses in NYC. Steel doors provide a sturdy, secure way to protect your property from unwanted intruders or extreme weather conditions while also being cost-effective. With minimal maintenance requirements and energy efficiency features, they are the perfect long-term solution to any business's security needs.
Steel door experts have identified several key benefits that steel doors bring to businesses: superior protection, increased safety, and improved aesthetics. They are designed with advanced materials that are resistant to corrosion and will last for many years without needing repairs or replacements.
Furthermore, these doors come with a range of additional features such as adjustable hardware, window inserts, decorative panels, and integrated locks which further enhance their security capabilities.
Overall, steel doors offer numerous advantages over other types of entrances due to their strength and durability. Not only do they provide enhanced safety against burglars but they also add value to buildings by increasing aesthetic appeal while maintaining energy efficiency standards.
Business owners should consider investing in high quality steel doors as it can be beneficial in terms of both security and overall savings on operational costs over time.