Businesses in New York City are exposed to a variety of risks, from break-ins and vandalism to threats posed by terrorism and civil unrest.
As such, it is important for these businesses to consider upgrading their security measures, particularly in regards to doors.
High-security doors offer an effective solution that can provide additional protection against unwanted intrusion while providing the flexibility needed for day-to-day operations.
This article examines the benefits of high-security doors for NYC businesses, focusing on how they can improve safety, reduce risk, and increase efficiency.
Increased Safety And Security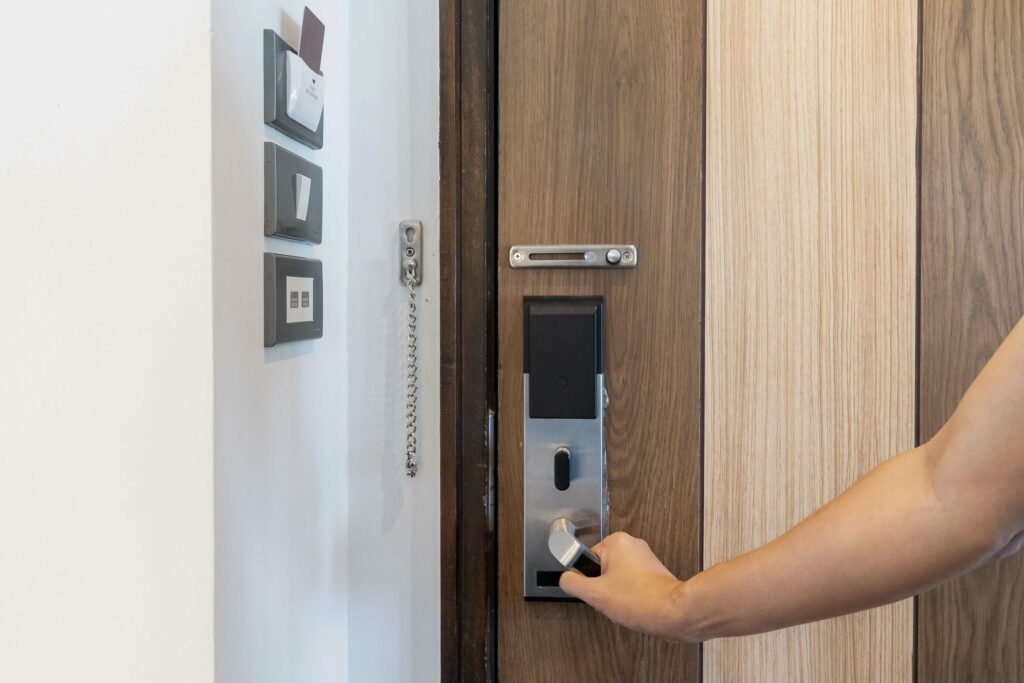 In a world where security threats are ever-present, it is essential for businesses to take proactive steps in order to strengthen their peace of mind.
How can this be accomplished? By upgrading to high-security doors.
Not only do these secure entryways provide enhanced visibility into the premises and greater deterrence against intrusion, but they also offer an added layer of protection that can help keep employees and patrons safe.
With improved security measures in place, business owners can feel confident that they have taken all necessary precautions to ensure the safety of those within their facility.
Enhanced Deterrence Against Intrusion
The installation of high-security doors provides enhanced monitoring capabilities, improved access control and increased deterrence against intrusion.
With the advance in door locking mechanisms and entry systems, it is possible to restrict access to authorized personnel only while also providing real-time recording of any unauthorized attempts at entry.
This greatly reduces the likelihood of a successful break-in attempt due to the difficulty of bypassing such advanced security measures.
Furthermore, deterring potential intruders from even attempting an intrusion helps lower the risk of property damage or loss caused by theft or vandalism.
By proactively investing in these preventive measures businesses can put themselves in a much better position compared to relying on reactive methods after an event has occurred.
Reduced Risk Of Property Damage And Loss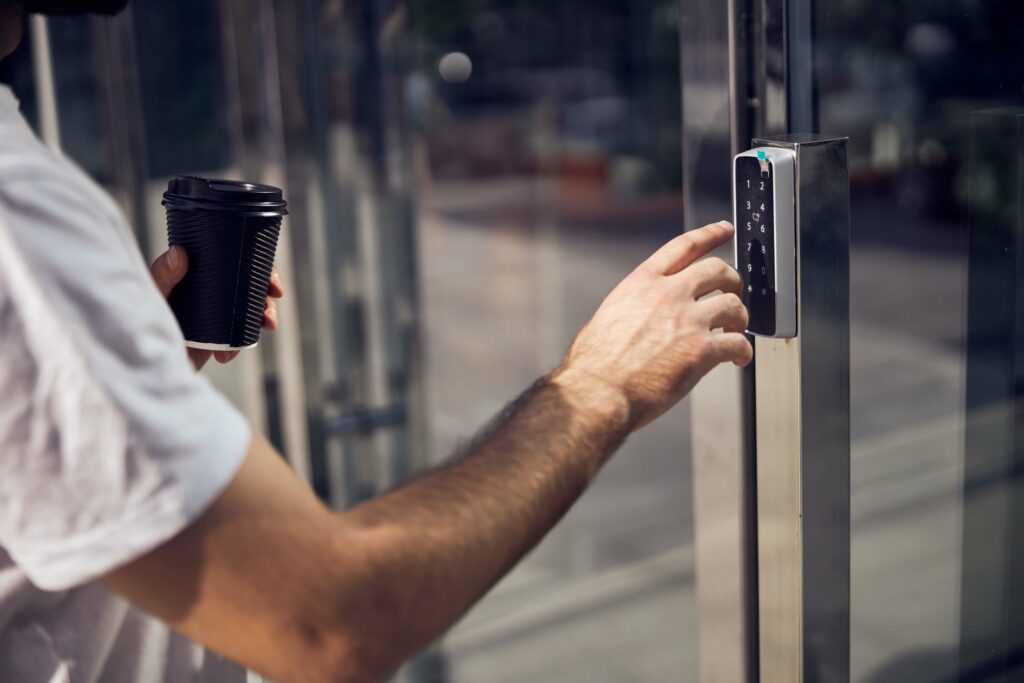 Upgrading to high-security doors can provide enhanced peace of mind and improved overall security for any NYC business. Not only does it deter unauthorized access, but it also reduces the risk of property damage and loss due to burglary or vandalism.
The upgraded security measures protect businesses from potential theft losses as well as costly repairs resulting from break-ins. Moreover, they eliminate the need for additional surveillance systems that may be expensive and time consuming to install. All these benefits combined create a feeling of confidence in one's establishment, knowing that their possessions are safe and secure at all times.
Going further, upgrading to high-security doors also gives business owners an added layer of protection when dealing with insurance companies should something ever go wrong on their premises. This is why investing in upgraded security features is often seen as a wise investment for any NYC business looking to improve safety while reducing liability risks.
In addition to increased safety, such upgrades offer improved efficiency and convenience.
Improved Efficiency And Convenience
Upgrading to high-security doors can have a number of positive effects on the efficiency and convenience of a business. Like building up a wall against intruders, investing in more secure doorways offers numerous cost savings that are hard to ignore.
Not only is it an effective way to reduce the risk of theft or vandalism at your NYC business, but it also gives employees peace of mind knowing their safety is being taken seriously. The result? Increased employee productivity and morale as they feel secure in their work environment.
By upgrading from low-cost locks and doors, businesses can boost security without breaking the bank – allowing them to save money while still providing adequate protection for its staff and assets. Nothing beats having reliable locks and durable doors you know will keep out unwanted visitors!
Frequently Asked Questions
Q: How Much Does It Cost To Upgrade To High-Security Doors?
Ans: When considering the cost of upgrading to high-security doors, it is important to consider the long-term benefits that come with such an investment.
Security ratings and a comprehensive benefits analysis should be conducted in order to determine if upgrading to high-security doors is worth the financial burden.
A thorough evaluation of materials and installation costs will help identify whether or not this upgrade can provide a favorable return on investment over time.
Furthermore, any potential risks associated with utilizing high-security doors must also be taken into account before making a decision.
Q: How Long Does It Take To Install High-Security Doors?
Ans: Installation of high-security doors is a process that requires careful consideration in order to meet safety standards. In general, it can take several days for the installation process depending on the complexity and size of the door.
Factors such as labor costs, building regulations, and theft prevention must be taken into account when considering how long it will take to properly install a high-security door.
This ensures that businesses are protected from unauthorized entry while also meeting local security requirements.
Q: Are There Any Maintenance Requirements For High-Security Doors?
Ans: High-security doors are designed to provide superior security features such as keyless entry, anti-theft systems and reinforced steel construction.
While installation may be relatively quick in comparison to other types of door installations, it is important to consider the maintenance requirements that come with these types of doors.
To ensure optimal performance and safety over time, regular inspection and maintenance should be conducted on high-security doors.
This includes checking for loose screws or bolts, lubricating locks, adjusting hinges and ensuring all safety components are working properly.
Q: Does Upgrading To High-Security Doors Require A Permit?
Ans: High-security doors are an invaluable asset for any NYC business, and the process of upgrading to one can be a monumental task.
Installing such a door requires extensive knowledge of building codes, lock compatibility, and installation techniques; thus, it is essential that businesses obtain the necessary permit before beginning this endeavor.
With all these factors combined, upgrading to a high-security door will undoubtedly protect your business from even the most determined intruders – providing peace of mind in what may otherwise be uncertain times.
Q: Are There Any Special Tools Required To Install High-Security Doors?
Ans: When installing high-security doors, specialty tools are often required. Depending on the type of lock being installed, this could include a drill or saw to cut through metal and wood, as well as other specialized locksmithing tools.
Upgrading to more up-to-date security is an important step for businesses in NYC, but it's essential that the right tools are used to ensure proper installation. Skilled professionals should be consulted when considering a change to higher grade locks and entry systems.
Conclusion
High-security doors offer many benefits for business owners in NYC. Their installation can be a cost effective solution to protecting the premises and its contents, while providing additional peace of mind that comes with increased security measures. The installation process is typically quick, efficient, and requires minimal maintenance requirements afterwards.
Furthermore, most high-security door installations do not require any special permits or tools other than what is provided by the installer. For example, one small business owner who owned a retail store in Brooklyn decided to upgrade their existing entrance door to a high-security alternative. After consulting with an expert on security solutions, they were able to quickly identify the best option for their individual needs and budget. Within days, their new door was installed without any disruption to operations or requiring any special permits or tools.
Overall, upgrading to high-security doors offers numerous advantages for businesses located in NYC such as improved security protection from burglars or vandals along with added peace of mind knowing you have taken extra precautions against potential threats. It also does not impose long wait times for installation nor need expensive permitting fees which makes it a worthwhile investment for businesses of all sizes looking to bolster their safety protocols.