Door repair is a complex job that requires trained professionals. NYC businesses must be aware of the dos and don'ts to ensure successful door repairs for their buildings.
This article will provide an overview of what goes into proper door repair, from selecting the appropriate materials to hiring skilled technicians. It will also discuss some common mistakes made in regards to door repair and how these can be avoided.
With this information, NYC businesses can make informed decisions when it comes to repairing doors in their buildings.
Choosing The Right Materials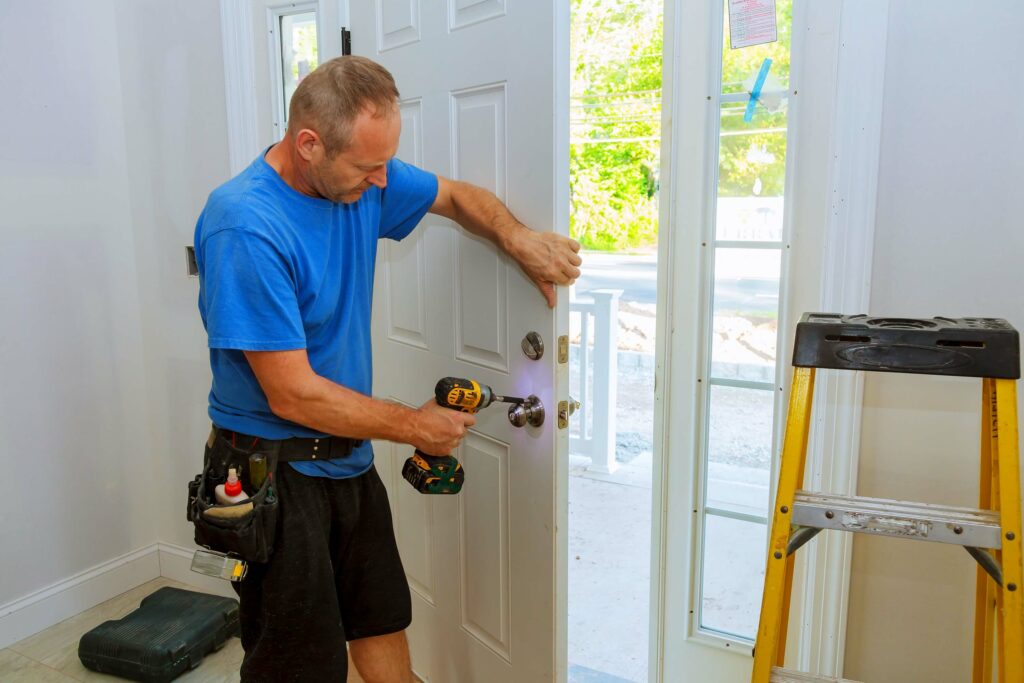 When it comes to door repair and installation for businesses in NYC, the materials used are vitally important. It is essential that these components are selected wisely and installed securely.
In order to ensure optimal performance, weatherproofing, and long-term durability of doors and their surrounding structures, utilizing quality materials that meet or exceed industry standards is a must.
Additionally, any necessary hardware should also be chosen carefully in accordance with manufacturer recommendations as well as local building codes and safety regulations.
To guarantee successful results from the start, hiring experienced professionals who have knowledge of proper techniques and products is paramount.
Hiring Experienced Professionals
Finding the right door repair professional is essential for NYC businesses.
When interviewing staff, it's important to ensure that they have the experience and knowledge needed to complete the job effectively.
Researching companies is also a great way of finding reliable technicians who can get the job done without any complications.
An experienced technician should be able to provide advice on what type of materials would be best used for repairing or replacing doors in order to guarantee safety and longevity.
Additionally, having an expert with years of experience working on such projects can help protect your business from potential liability risks when dealing with complicated repairs.
From this point forward, understanding the function of each door becomes key as we move into our next topic.
Understanding The Door's Function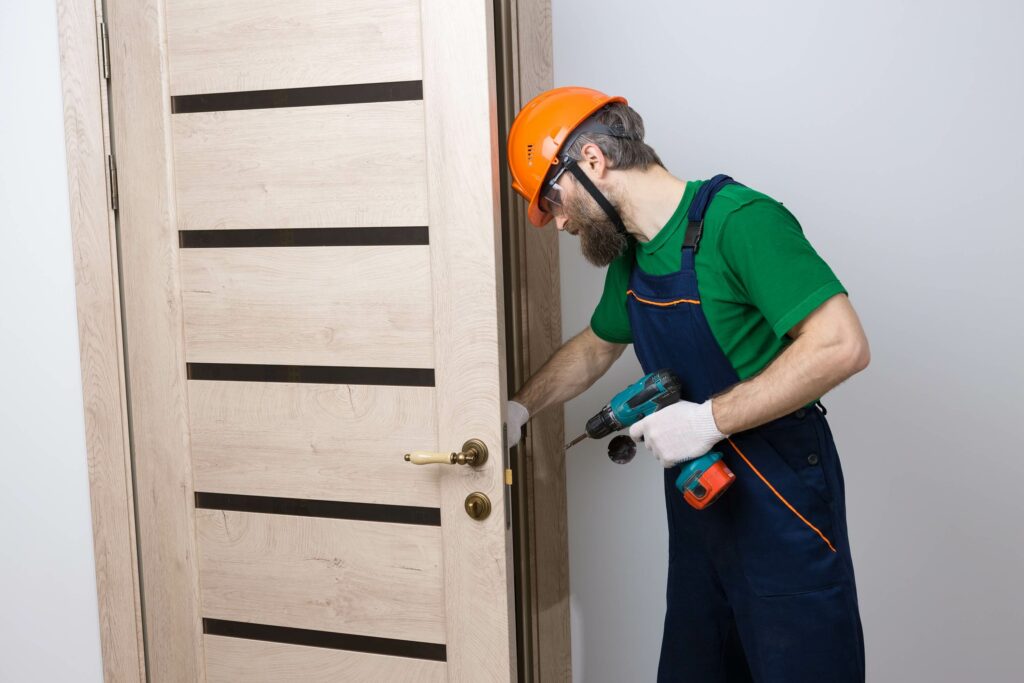 When repairing a door for NYC businesses, it is important to consider the function of the door before beginning any repairs.
This means evaluating factors such as its location within the building, assessing how long it will last with regular use, and determining what costs are associated with making necessary changes or repairs.
Additionally, it can be beneficial to research which materials work best in that particular situation so that the longevity and cost-effectiveness of the repair can be optimized.
By taking these steps into consideration prior to starting any repairs, businesses can ensure they are getting the most out of their investments while protecting their employees and customers from potential danger.
Performing Regular Maintenance
Maintaining a door is like caring for a vehicle: regular inspections and preventative measures are key to avoiding costly repairs or replacements down the line.
For NYC businesses, there are four primary areas of focus when it comes to performing regular maintenance:
Ensuring hardware components are properly lubricated
Checking weatherstripping and insulation for wear-and-tear
Examining locks and other security features
Cleaning dirt, dust, and debris from door frames
In most cases, these tasks can be completed quickly on an as-needed basis. However, it's important that they not be overlooked in order to ensure optimal performance over time.
Moving forward, we will discuss common mistakes to avoid when carrying out door repair projects.
Avoiding Common Mistakes
When repairing a door, it is essential to ensure the safety of all involved. To do so, one must always use caution and follow proper installation instructions.
This means making sure that any materials used are appropriate for the job at hand and installed securely according to manufacturer guidelines. Additionally, using quality parts from reliable sources can help prevent potential issues down the line.
It's also important to take into account local regulations when selecting components or performing repairs in order to avoid fines or other penalties. By being aware of these factors, businesses can rest assured that their doors will be repaired safely and properly.
Frequently Asked Questions
Q: What Is The Expected Lifespan Of A Door Repair?
A: The expected lifespan of a door repair depends heavily on the quality and type of materials used in its construction, as well as the quality of service provided.
Door materials such as solid hardwood or steel will generally last longer than composite wood products.
Professional door repair technicians should be knowledgeable about different types of door materials, as this can help to ensure that appropriate repairs are completed which extend the life of the product.
Quality craftsmanship also plays a major role in determining how long a repair will last; it is important for experienced professionals to use their expertise when making any kind of adjustments or modifications to doors.
Q: How Much Does A Typical Door Repair Cost?
A: The cost of a typical door repair depends largely on the quality of the material used and the standards to which it is repaired. Generally, higher-quality materials will result in more expensive repairs while lower-grade materials may be cheaper but less durable.
Professional door repair technicians are trained to ensure that all repairs meet industry standards while still remaining cost effective. Therefore, businesses should consider both the quality of their doors as well as the expected lifespan when seeking out professionals for door repair services.
Q: Are There Any Regulations Or Codes That Must Be Adhered To When Repairing A Door?
A: When repairing a door, it is important to adhere to certain regulations and codes. Proper installation must meet safety standards in order to ensure the health and wellbeing of those using the door.
This means that any repair technician or expert should be aware of these rules before beginning work on the project. Furthermore, all repairs should be done by certified technicians who are knowledgeable about local laws and requirements for proper installation.
It is essential to take into account all relevant factors when carrying out repairs in order to achieve optimum results with minimal downtime.
Q: What Are The Best Practices For Securing A Door After Repair?
A: When repairing a door, it is important to consider best practices for securing the door once repairs have been completed.
This includes properly fitting locks and other fire proofing solutions. Professional door repair experts recommend that all locks are checked after installation to ensure they fit correctly and that any necessary adjustments are made before closing the door.
Fireproofing solutions should be integrated into the design of the door in order to provide optimal protection against potential fires. Additionally, regular maintenance checks should be conducted to guarantee that all components remain secure and effective over time.
Q: Are There Any Special Tools Or Techniques Required For Certain Door Repair Jobs?
A: Door repair jobs require specific tools and techniques depending on the type of door being repaired. Experienced professionals understand that each door offers its own challenges and requires different materials for optimal performance.
Therefore, when selecting a door repair technician, it is important to ensure they are knowledgeable in working with various types of doors as well as familiar with the available repair materials to use for each project.
Conclusion
The average lifespan of a door repair is estimated to be five years. In order to maximize the longevity of a repair, businesses should ensure that they are working with trained and certified technicians who use quality materials.
Furthermore, there are certain regulations and codes pertaining to door repairs in NYC, making it important for businesses to select their contractor carefully.
When repairing a door, best practices include inspecting all hardware components prior to installation and ensuring that locks are properly aligned and functioning correctly. Special tools or techniques may be required for more complex jobs such as installing fire doors which must meet specific safety requirements. The cost of such specialized services can vary significantly depending on labor costs but typically range from $100-$400 per hour.
Overall, proper maintenance and regular inspections of door systems will help reduce expensive repairs down the line. Businesses in NYC can benefit from taking proactive measures when it comes to door repair – according to statistics, up-front investments in preventive maintenance can save an organization up 30% annually on related expenditures.