It's a story as old as time: you are operating a business in New York City, and your commercial door is on the fritz. You're standing there wondering why it won't open – after all, aren't these doors supposed to be foolproof? Don't worry, this happens often; commercial door repairs are no joke.
But don't despair just yet! Despite how intimidating (or annoying) those pesky malfunctions may seem at first glance, they can make life easier if addressed properly. That's right – believe it or not, commercial door repair in NYC plays an integral role in ensuring that businesses run smoothly.
If you want to learn more about the importance of repairing commercial doors in NYC, then read on! We'll explore how regular maintenance can help save money and keep business owners from pulling their hair out when something goes wrong. Plus, we'll discuss what steps should be taken whenever a broken lock interrupts operations – so buckle up and get ready to dive into the world of commercial door repair!
Common Problems With Commercial Doors
Maintaining commercial doors in NYC can be a challenge. The sheer number of businesses, shops, and offices in the city means that many doorways are constantly being used and exposed to wear and tear. Over time, this takes its toll on even the sturdiest of commercial doors. Common problems include broken hinges, sticking locks, misaligned frames, and damaged handles.
For a business to run smoothly and safely, it's important that these problems are fixed as soon as possible. Services that fix doors can help find possible weak spots before they turn into bigger problems. For example, if a hinge is showing signs of rust or wear and tear from being used too much, it should be replaced as soon as possible to stop further damage and maybe save money in the long run. Additionally, repairing worn lock mechanisms and hardware prevents unauthorized access into an establishment – something especially vital for smaller stores or offices, which may not have other security measures in place.
Having properly functioning doors is critical for safety reasons too: faulty panels may cause someone to trip while entering a building or potentially get stuck inside during an emergency; both scenarios could lead to serious injury or worse! Regular maintenance ensures that all areas always remain safe and accessible.
Safety Considerations For Door Repairs
Safety is paramount when it comes to commercial door repair in NYC. It's a delicate balance between ensuring the doors perform as expected and keeping everyone safe from harm. Here are three key considerations for businesses to keep in mind:
Regular Maintenance
Regular inspections of all doors should be conducted, especially those used frequently or that may require extra attention due to their age or design. Issues such as structural damage, rusting hinges, and worn-out locks can easily go unnoticed but can lead to serious safety risks if left unchecked.
Proper Installation
Professional installation by certified technicians is essential for any repairs or replacements. This ensures that all components are correctly installed and functioning properly before use so that no one is put at risk due to faulty hardware or inadequate security measures.
Security Measures
In addition to proper maintenance and installation, businesses also need to consider additional security measures such as CCTV cameras, alarms systems, access control systems, etc., which can help deter potential thieves and protect employees and customers alike while onsite.
A thoughtful approach towards door repair not only keeps people safe but also provides peace of mind knowing that everything has been done responsibly with an eye towards safety first. By taking these steps into consideration, businesses can make sure they're doing their part in helping create a safer environment for everyone in NYC.
Estimating The Cost Of Commercial Door Repair In NYC
As discussed in the previous section, safety considerations are essential when it comes to commercial door repair. But a crucial factor that must be considered is cost. Repairing or replacing doors can be expensive and time-consuming, so understanding how much repairs will cost is important for any business owner in NYC.
There are several factors to consider when estimating the cost of commercial door repair in NYC. The type of door being repaired plays a role in how much it will cost, as does the extent of damage and the labor involved with making repairs. Doors made from wood typically require more work than those made from metal or fiberglass, thus increasing the price tag. For example, repairing damaged hardware such as locks on wooden doors can take longer than fixing similar components on metal or fiberglass models due to lumber's relative fragility. Additional costs may also include materials like paint or sealants used to complete the job properly and prevent further issues down the line.
Finally, there are reputable companies operating in NYC who specialize in commercial door repair at competitive prices. It's wise to research your options thoroughly before committing to any one option – doing so could save you money while ensuring quality results that last well into the future. With careful consideration and some basic knowledge about pricing structures, businesses owners can make an informed decision regarding their investment in commercial door repair that meets both budgetary requirements and security needs simultaneously.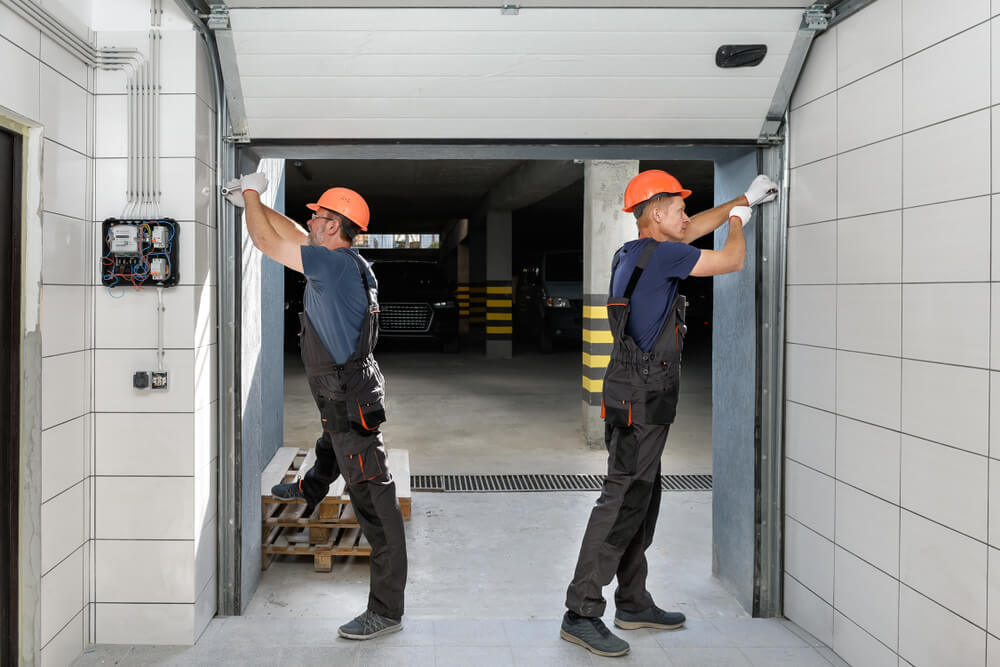 Understanding Local Regulations On Door Installation And Repair in NYC
Did you know that New York City is one of the most heavily regulated cities in the world when it comes to commercial door repair and installation? This means that businesses must adhere to stringent requirements for their doors to remain safe and up-to-code. Here are some key points about local regulations:
* Businesses must ensure all parts used in a door installation or repair meet safety standards set by NYC's Department of Buildings.
* Doors must be constructed from fire-resistant materials, with appropriate emergency exit devices installed.
* Companies are required to have an inspection performed annually on any newly installed doors, as well as periodically throughout the year on existing ones.
These regulations protect both customers and employees alike, reducing the risk of injury or worse due to faulty construction or improper maintenance. They also help maintain the structural integrity of buildings in order to withstand extreme weather events like hurricanes and blizzards, which can cause serious damage if not properly prepared for. By adhering to these regulations, companies can rest assured they are providing a safe environment for everyone who visits their premises.
As technology advances so too do building codes; this ensures that business owners can stay current with best practices while still meeting legal requirements. In addition, many employers offer training programs for technicians working on door installations and repairs, helping them stay abreast of changing industry trends so they can work more efficiently and effectively. Ultimately, following local laws helps keep occupants safe from harm while ensuring businesses remain compliant with state and federal regulations – something we should all strive towards!
Proper Installation Procedures For Commercial Doors
Proper installation of commercial doors is essential for the safety and security of any business in NYC. It's important to make sure that your door is installed correctly so you can avoid costly repairs down the road. To ensure a proper installation, it's best to work with an experienced professional who understands all aspects of door repair and installation.
When installing a new commercial door, there are several factors to consider. First, you'll need to measure the doorway opening accurately to determine what type of door will fit properly without compromising its structural integrity. You'll also need to select the right material depending on where and how often the door will be used – metal or wood may both provide excellent durability, but one might be better suited than another based on use-case scenarios. Additionally, you should pay attention to details such as whether there are hinges or knobs on each side of the door frame, as well as selecting weatherproofing components like seals and thresholds if necessary.
To guarantee that your commercial door has been properly installed, always hire a trained expert with experience working specifically with these types of installations. With their knowledge and expertise, they can take care of everything from measuring the doorway opening correctly to making sure all hardware is securely fastened. Professional installers have access to quality materials too – something which could not only save time during the installation process but help protect against future damage due to wear and tear caused by regular usage over time. For businesses in New York City looking for reliable commercial door repair services, hiring a skilled technician is worth considering!
Benefits Of Professional Repair Services
A professional door repair service in NYC is like a lighthouse beacon, guiding businesses back to safety and security. When it comes to doors, there are many potential risks that can be avoided with the help of an experienced technician. Not only will they ensure your business or property is safe from unauthorized persons, but also provide added convenience for customers and employees alike.
The benefits of investing in a professional commercial door repair in NYC extend far beyond just peace of mind. Professional technicians understand all types of locks, hinges, frames and other components associated with the installation of new or existing doors. This expertise allows them to identify any issues quickly and apply the necessary remedy – such as replacements parts or adjustments to keep your doors functioning correctly. Furthermore, their experience means commercial door repairs are done efficiently and cost effectively compared to DIY methods which could end up costing more time and money over time if not properly executed.
In addition to reliability and efficiency, professional repair services offer valuable advice on ways you can enhance overall security measures around entrances at your business or home — evaluating existing features including lighting systems and alarm systems while making recommendations tailored specifically for you. This kind of personalized attention makes sure each entry point meets its intended purpose without compromising structural integrity along the way. With these additional precautions in place, you can rest assured knowing your premises are adequately safeguarded against intruders 24/7.
Conclusion
The commercial door is a symbol of both safety and security, which makes it essential for business owners to make sure their doors are in good repair. Door repair services can help ensure that businesses remain compliant with local regulations while providing the protection customers need from intruders. Professional technicians understand proper installation procedures and have the expertise needed to keep these valuable assets functioning properly. For NYC business owners, investing in quality door repairs helps protect customers and employees alike, making it an important part of any business's operational costs.
Door repairs offer more than just peace of mind; they also provide cost savings over time. Properly maintained doors last longer and require fewer repairs, saving businesses money on costly replacements or installations down the line. Professional technicians know how to identify potential problems early so they can be addressed before they become major issues – another way commercial door repair can save you money in the long run.
Investing in professional door repairs ensures your business is well-protected inside and out. From improved safety protocols to reduced maintenance expenses, hiring a qualified technician offers numerous benefits that will pay off for years to come. Whether you're looking for installation assistance or regular maintenance checks, taking advantage of commercial door repair services keeps everyone safe and secure – something no one should ever take lightly!