Storefront doors are an important asset to any business in New York City. They serve both as a first impression for customers and also provide protection from the elements, potential thieves and vandals.
With so much on the line, it is essential to select the right storefront door that meets your needs while keeping within budget constraints. This article will discuss tips for choosing the right storefront door for NYC businesses.
When selecting a doorway, there are several factors that must be taken into consideration including overall size, design and materials used. Additionally, security features should be considered such as locksets with deadbolts and keyless entry technology.
In addition to these considerations, maintenance requirements of the selected door should be evaluated. Understanding how often a particular model may need to be serviced or repaired can help keep long-term costs down significantly over time.
Overall Size And Design
When selecting a storefront door for your NYC business, it is important to consider the overall size and design.
A wide range of door styles are available, from traditional to modern designs that can be tailored to fit any aesthetic.
Keeping in mind energy efficiency requirements, you can choose an option that meets all local regulations while still providing an attractive addition to your store.
Additionally, materials and security features must also be considered when choosing the right storefront door for your business needs.
Materials And Security Features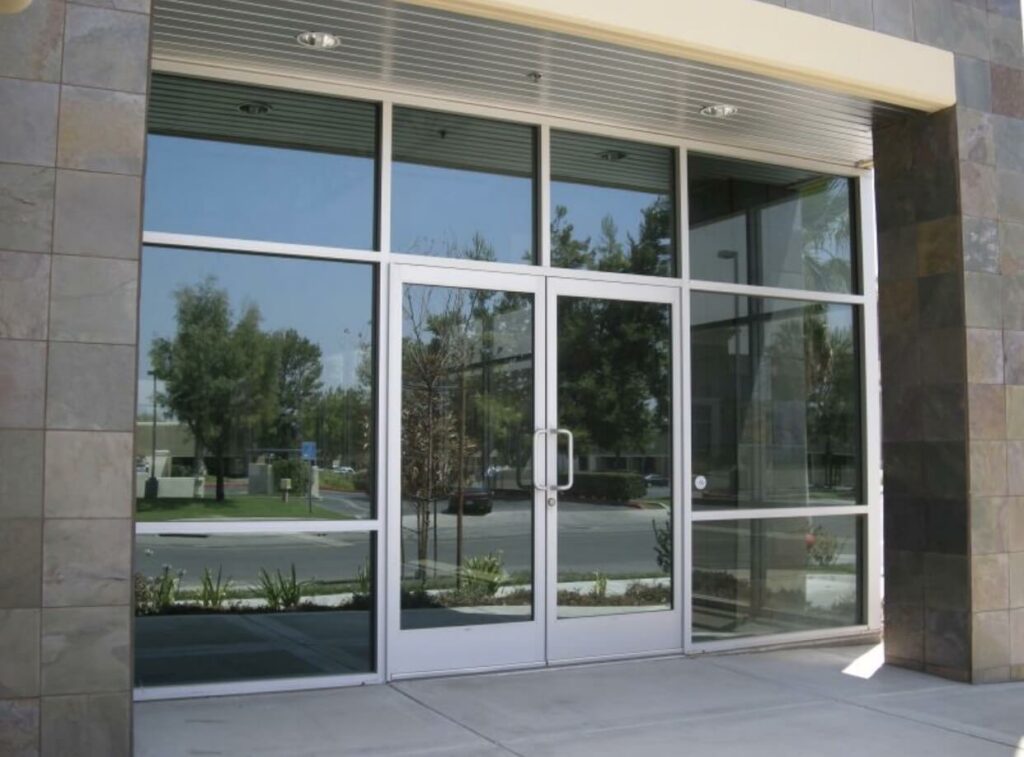 When selecting a storefront door for your NYC business, materials and security features are important considerations.
The most common material used in storefront doors is steel; its strength provides superior protection from break-ins. Additionally, it can be weatherproofed to protect against rain, snow, and wind as well as temperature control with insulated glass panels or other insulation options.
Aluminium is another option; while not as strong as steel, it offers rust resistance and durability at a lower cost but lacks the same level of thermal efficiency compared to steel. Careful consideration should be given to the maintenance requirements that come with using either material.
Maintenance Requirements
Door durability is paramount when picking the perfect storefront door; it must be able to stand up to a variety of temperature fluctuations, endure wind and rain, and resist forced entry. To ensure your business has the right door for its needs, consider these key factors:
Durability Factors:
Structural integrity
Resistance to weather elements
Security features
Temperature Control:
Insulation capabilities
Ventilation options
Moisture-proofing abilities
These points should all be taken into account before making any final decisions about which storefront door best suits your NYC business. When budget considerations come into play, you will already have an idea of what type of door meets your specific requirements.
Budget Considerations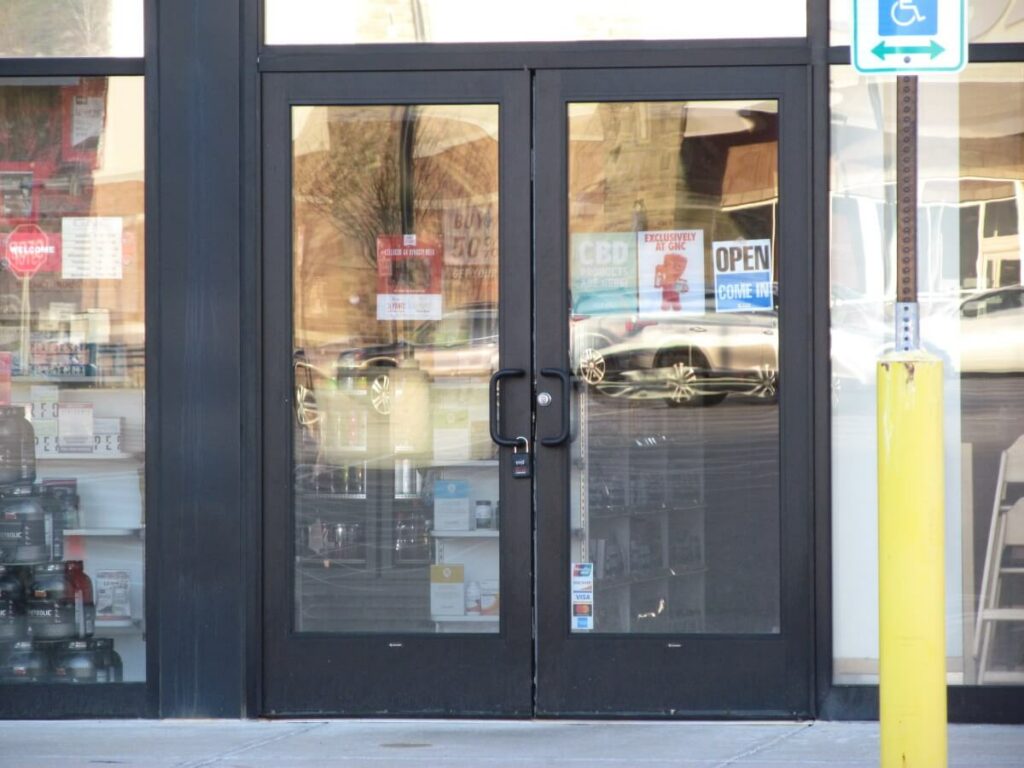 When selecting the right storefront door for your NYC business, budget considerations should be taken into account.
It is important to compare prices between different vendors in order to find the best deal that fits within your allocated budget.
Additionally, one should also consider installation costs as this could affect the overall cost of purchasing a new door.
Depending on what kind of door you purchase and who installs it, these fees can vary greatly.
Therefore, researching multiple suppliers before making a final decision can help ensure that you are getting a quality product at an affordable price with minimal installation costs.
Frequently Asked Questions
Q: How Long Does It Take To Install A Storefront Door?
Ans: When it comes to installing a storefront door, the process can take anywhere from one day to several weeks depending on factors such as door quality, size and complexity of the installation, energy efficiency requirements and more.
The highest quality doors may require more time for installation due to their superior construction which helps ensure strength, durability and security.
Additionally, if any special modifications are required or additional features need to be added, like insulation for improved energy efficiency, this will also add to the length of time needed for installation.
Q: What Is The Expected Lifetime Of The Storefront Door?
Ans: Storefront doors are expected to have a long life, depending on the materials used and how well they are maintained.
For example, steel storefront doors can last up to 30 years with regular maintenance, while aluminum storefront doors usually require replacement after around 10-15 years.
When considering which type of door is best for your business, pay attention to energy efficiency and security features that may prolong its lifespan.
A storefront door expert should be consulted in order to make an informed decision about which material will provide the most longevity without sacrificing safety or energy savings.
Q: Are There Any Local Regulations To Consider When Selecting A Storefront Door?
Ans: When selecting a storefront door for your business, it is important to consider any local regulations that may be in place.
Building codes and other relevant statutes will dictate the types of materials and designs allowed.
Additionally, local suppliers should be consulted as they can provide information on which doors meet all regulatory requirements while also being aesthetically pleasing.
Q: Is Professional Installation Of The Storefront Door Recommended?
Ans: Professional installation of the storefront door is highly recommended, as it ensures that the door material and energy efficiency are both up to standard.
Door experts suggest considering a range of factors when selecting an installer, such as their experience with different materials and insulation requirements, in order to guarantee a secure fit for your business.
A professional team will also be able to advise on any local regulations that may need to be taken into account during installation.
Q: Are There Any Noise Reduction Options Available For Storefront Doors?
Ans: Storefront doors come with a range of noise reduction options, depending on the needs of your business. Soundproofing is an important consideration for many businesses in terms of privacy and customer comfort.
There are several soundproofing materials available, such as acoustic insulation or rubber-based seals that can be used around the door frame to reduce external noise levels.
Along with soundproofing, thermal insulation can also provide additional benefits by keeping internal temperatures consistent and stable throughout different seasons.
Professional installation is recommended if you would like to take advantage of these features.
Conclusion
Storefront doors play an important role in the success of a business. When selecting the right storefront door for a NYC business, there are several factors to consider.
It is essential to take into account installation time, expected lifetime, local regulations and possible noise reduction options when making this decision. Professional installation is highly recommended due to the precision required for proper fit and functionality.
A recent survey found that 80% of businesses reported improved customer flow after installing new store-front doors. This statistic illustrates how crucial it is for businesses to have functional and well designed storefronts that meet their needs.
Furthermore, having properly installed storefront doors can reduce energy consumption costs and increase overall customer satisfaction with the shopping experience. Making sure that you select the best storefront door for your business will give you peace of mind knowing that customers are entering through a secure entrance while also being able to enjoy aesthetics or soundproofing benefits.
With careful research and consideration of all available options, any NYC business can find the perfect choice in terms of design and function.