Fire door inspections are an important part of fire safety for New York City businesses. The purpose of these inspections is to ensure that all fire doors and related components in a building meet the minimum requirements set by state codes, local laws, or other applicable regulations.
Inspections also help identify any potential hazards that may be present due to damaged or worn out components. This article will discuss why regular fire door inspections are essential for NYC business owners and how they can protect their employees and customers from harm.
Fire doors play a crucial role in maintaining the structural integrity of buildings during a fire emergency. When properly installed, maintained, and tested on a regular basis, they provide a physical barrier between occupants and the flames that could potentially spread throughout the structure.
By inspecting each component of the fire door system regularly, it is possible to detect any damage before it becomes hazardous and take corrective action to prevent further risks. In addition, testing helps ensure compliance with relevant standards such as NFPA 80: Standard for Fire Doors & Other Openings in Building Walls.
Benefits Of Fire Door Inspections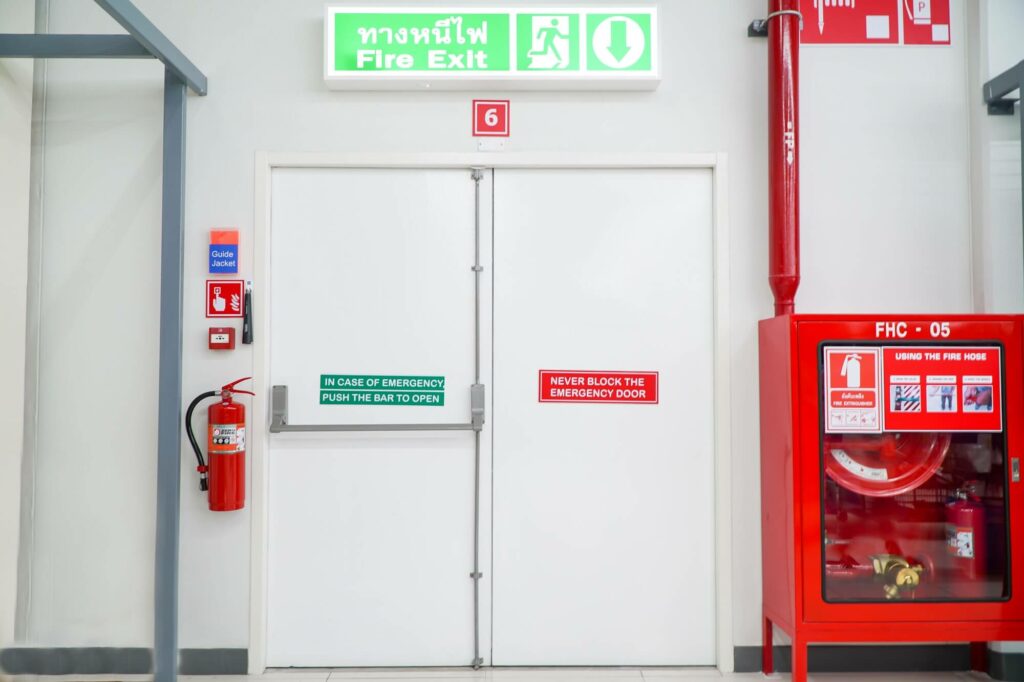 The importance of fire door inspections in NYC businesses cannot be overstated, as it is essential to maintain safety compliance with the relevant fire safety regulations. To keep a business running smoothly and safely, these inspections are critical for detecting potential hazards that could cause serious harm or damage.
Performing these inspections on a regular basis helps ensure no corners are cut when it comes to fire safety — thereby allowing people using the building to rest easy knowing they're adequately protected from any possible fires. It is vital, then, that all necessary steps are taken to properly inspect every single fire door within an establishment; leaving nothing unchecked can help guarantee maximum security against potentially hazardous conditions.
Moving forward, we will explore how exactly one performs such inspections.
How To Perform Fire Door Inspections
Fire door inspections are an essential part of meeting fire safety regulations and can help to protect businesses from potential liability. Properly inspecting a building's fire doors is crucial in order to ensure that they are properly installed, maintained, and replaced when necessary.
Inspectors must check the integrity of both the frame and door components as well as examine any attached hardware including locks, hinges, closers, seals, and other related items for proper installation. In addition, all fire-resistant glazing materials should be inspected to ensure they meet code requirements.
It is also important to note that inspection intervals will vary depending on local codes or standards set by authorities having jurisdiction over the facility. By proactively performing regular inspections based upon these guidelines, business owners can rest assured their premises comply with current fire safety regulations while maintaining the highest level of protection for employees and visitors alike.
Common Fire Door Deficiencies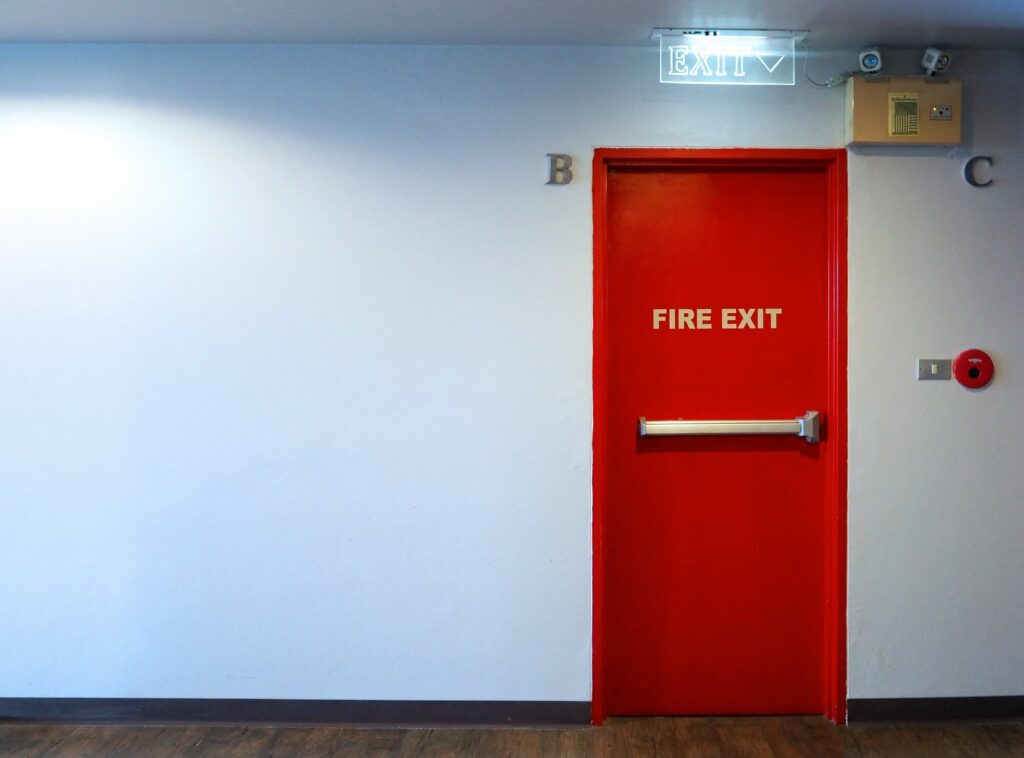 It is almost comical that businesses in NYC have to worry about something as relatively simple and mundane as fire door installation. After all, isn't it the most basic of safety measures?
Fire doors are designed to contain any fires from spreading throughout a building, saving lives and property – yet here we are!
It's not only important for business owners to be aware of the legal requirements for fire door inspections but also take responsibility for conducting them regularly. A failure to do so can have significant consequences; ranging from fines up to criminal charges depending on the severity of an incident.
Thankfully, by adhering to NFPA 80: Standard for Fire Doors & Other Openings in Building Walls, these risks can be minimized significantly.
Nfpa 80: Standard For Fire Doors & Other Openings In Building Walls
Fire door inspections are an important safety measure for any NYC business. They ensure that these doors and their components, such as frames and hardware, comply with the rigorous requirements of NFPA 80: Standard for Fire Doors & Other Openings in Building Walls.
This standard outlines the use of fireproofing materials, rated closures, and exit strategies to protect personnel during a fire emergency. It also provides detailed instructions on how to properly inspect, maintain and repair fire doors.
The importance of adhering to this standard cannot be overstated. Properly inspected fire doors will help prevent fires from spreading throughout a building; they can buy occupants time to safely evacuate or extinguish the flames before more serious damage occurs.
The following points should be kept in mind when conducting regular inspections:
Inspect all components (frame, hardware) for signs of wear or damage
Ensure the correct type and amount of fireproofing materials have been used
Confirm proper operation/functionality of each closure
Verify that closing devices are correctly installed
Following NFPA 80 guidelines is essential in order to keep people safe from harm's way in case of a fire emergency.
Frequently Asked Questions
Q: What Kind Of Training Is Needed To Perform A Fire Door Inspection?
Ans: Fire door inspections are a critical component of fire safety regulations and should be conducted by trained professionals. In the United States, an estimated 3,400 people die annually from fires in either their home or workplace, according to FEMA statistics.
To ensure that all fire doors meet inspection standards, it is important for those conducting the inspections to have received proper training. Fire safety professionals typically use specialized tools such as thermal imaging cameras, smoke detectors and pressure gauges to inspect and evaluate various components of the door assemblies. They must understand how to interpret codes related to fire protection systems in order to properly assess each door assembly's compliance with established criteria.
Lastly, they need to possess knowledge regarding the installation requirements laid out in NFPA 80 – Standard for Fire Doors and Other Opening Protectives.
Q: How Often Should Fire Door Inspections Be Conducted?
Ans: Fire door inspections are an important part of ensuring the safety and fireproofing requirements for any business.
Generally, fire door inspections should be conducted at least annually; however, this can depend on several factors such as changes to the building or local regulations.
The frequency of inspection will also vary depending on the type of doors that need to be inspected.
It is recommended that businesses contact a certified inspector in order to ensure their compliance with all applicable safety regulations.
Q: Are There Laws Requiring Fire Door Inspections In Nyc?
Ans: With the safety of individuals and businesses being of utmost importance, it is essential to understand the regulations surrounding fire safety.
In New York City specifically, there are guidelines for businesses to adhere to regarding inspection requirements for their fire doors.
It is paramount that these regulations be followed in order to ensure compliance with Fire Safety Regulations and Inspection Guidelines.
Thus, understanding the law pertaining to fire door inspections can help keep your business secure from potential hazards.
Q: What Is The Cost Of Having A Professional Perform A Fire Door Inspection?
Ans: Fire door inspections can have cost implications for a business in New York City.
Professional fire safety personnel typically perform these types of inspections, and the associated costs vary depending on the size, scope, and complexity of the inspection.
Generally speaking, businesses should be prepared to pay anywhere from several hundred dollars up to a few thousand dollars for an extensive assessment that includes all necessary safety measures.
Q: How Can I Tell If A Fire Door Has Been Properly Installed?
Ans: Fire doors are an essential element of a building's fireproofing system and must be installed properly in order to meet safety standards. According to the National Fire Protection Association, approximately 85% of all commercial buildings in the United States contain at least one fire door.
While having a professional perform a fire door inspection can ensure proper installation, there are some indicators that individuals themselves can look for when determining if a fire door has been properly installed. These include ensuring that the door frame is secured tightly into the wall and checking for any gaps or openings between the edges of the door and its frame; also make sure that smoke seals fit snugly around both sides of the doorway.
Lastly, confirm that self-closing mechanisms function correctly and close securely after each use. Taking these measures will help to guarantee optimal protection from potential fires in your NYC business.
Conclusion
The importance of having fire doors inspected regularly cannot be understated. Fire door inspections are a vital part of any building's safety plan, and in the case of New York City businesses, they can mean the difference between life and death.
Properly trained professionals should conduct these inspections on a regular basis to ensure that all fire doors are properly installed and functioning as designed. Laws and regulations require that NYC businesses have their fire doors inspected at least once every five years. The cost for professional inspection services is typically quite affordable, but it is still important for business owners to make sure that the expense fits into their budget accordingly.
To help identify if a door has been correctly installed or maintained over time, there are several visual cues which can be used. These include checking if the seals around the frame fit securely; looking for signs of damage such as discoloration or warping; testing operation by opening and closing it multiple times; ensuring proper latching mechanisms work correctly; and finally inspecting labels to make sure they are up-to-date with relevant information regarding installation date, manufacturer name, etc.
If any issues are identified during an inspection, immediate action must be taken to rectify them – like turning off water from a leaky tap before it causes too much damage – otherwise serious consequences may arise down the road.
In summary, fire door inspections play an integral role in protecting both people and property within NYC buildings. It is essential that business owners prioritize this task when creating their safety plans since failure to do so could result in significant losses due to fires or other disasters. Regular inspections also provide peace of mind 'like a breath of fresh air' knowing that your business is safe from harm caused by faulty fire doors.