The purpose of this article is to discuss the benefits of upgrading to handicap-accessible doors in business establishments located in New York City (NYC).
Many businesses are unaware that they can make their premises more accessible and inclusive for customers with limited mobility.
It is essential for NYC businesses to understand how important it is to provide access solutions like handicap-accessible doors, as well as the potential advantages of doing so.
This article will explore why providing an effectively designed solution can benefit both those with disabilities and businesses alike.
Meeting Accessibility Requirements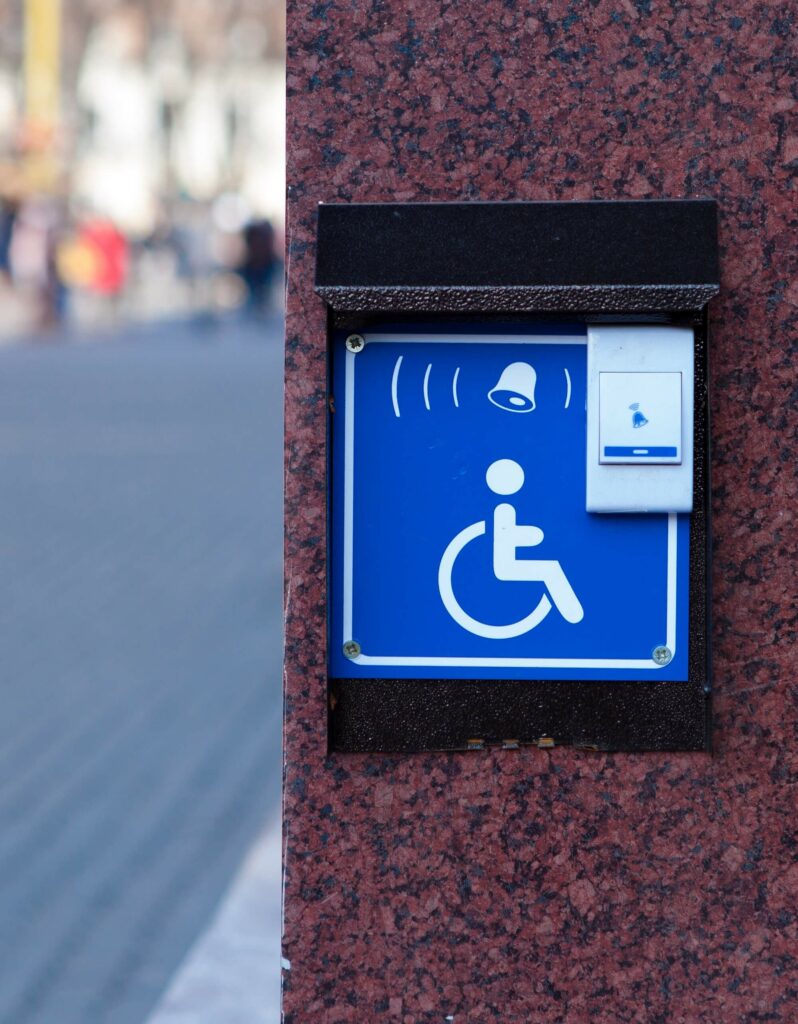 Upgrading to handicap-accessible doors for a business in NYC is essential for ensuring compliance with accessibility standards.
By simplifying navigation and access, businesses can create an improved customer experience that meets the needs of all customers regardless of their physical abilities or disabilities.
In addition to these requirements, there are other benefits associated with making this change which will be discussed further in the subsequent section.
Improving Customer Experience
Upgrading to handicap-accessible doors can improve the customer experience in a variety of ways.
Creating convenience for customers with disabilities is an important factor, as they will no longer need assistance entering through traditional doorways.
Additionally, improved aesthetics are also achievable when installing these types of doors; this may be beneficial to businesses looking to create a welcoming environment for all guests.
Furthermore, there are other potential advantages that come along with making such an upgrade, which should be further explored.
With that said, enhancing safety and security by improving access control measures should also be considered.
Enhancing Safety And Security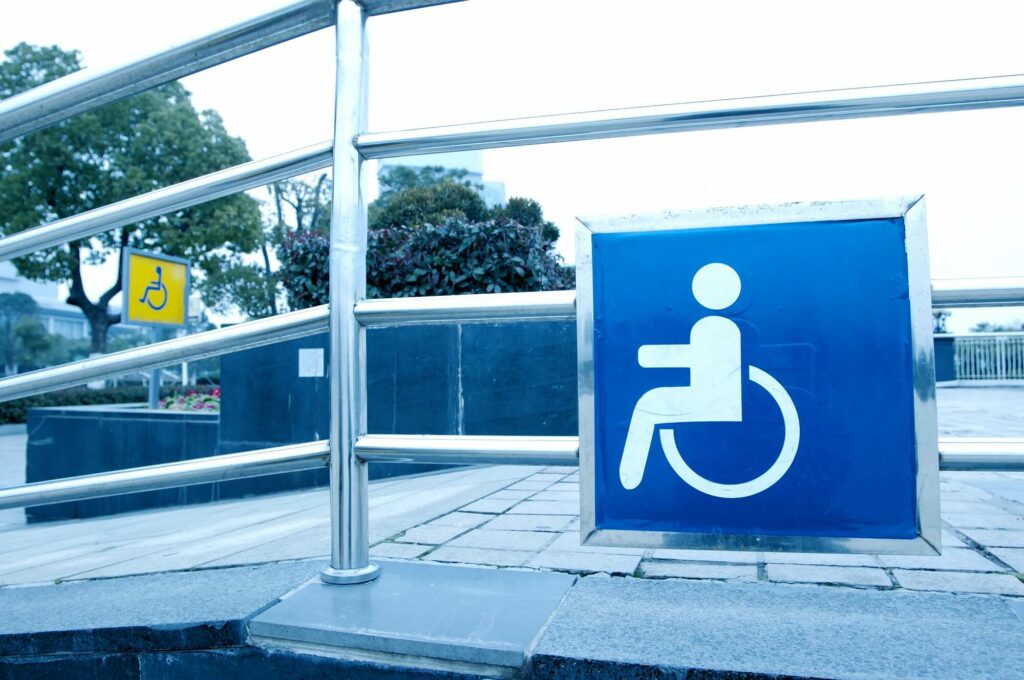 Handicap-accessible doors can offer tremendous safety and security benefits to a business in NYC. They are like sturdy fortifications that keep out unwanted intruders while allowing those with authorization to enter without any difficulty.
Handicap-accessible doors reduce risks, as they come equipped with locking mechanisms that are highly secure and cannot be easily circumvented.
Furthermore, the glass panels on handicap-accessible doors allow for increased visibility, which makes it easier for employees or personnel to monitor who is entering and leaving the premises at any given time.
This heightened level of oversight helps deter crime and also aids in ensuring compliance with local regulations related to building access for disabled persons.
Potential Cost Savings
Upgrading to handicap-accessible doors for a NYC business can result in potential cost savings. Handicap-accessible doors are designed with specific features that allow increased efficiency, such as automated opening and closer functions or wider doorways. This can reduce the need for extra staffing to open and close the doors, which could potentially reduce overhead costs.
In addition, having compliant accessibility standards helps reduce liability exposure associated with ADA regulations. Making sure your facility is up-to-date on its compliance requirements greatly reduces the chances of dealing with costly fines and lawsuits related to noncompliance.
Ultimately, upgrading to handicap-accessible doors may have long term financial benefits by reducing liabilities while increasing efficiency.
Frequently Asked Questions
Q: What Type Of Handicap-Accessible Doors Are Available?
Ans: Are you looking for the right type of handicap-accessible door for your business? With many features and safety standards to consider, it can be a daunting task.
As an accessibility consultant, I am here to help guide you through this process. When selecting the right doors for your needs, there are several features that should be taken into account such as material, size, strength and durability.
Furthermore, checking if the door meets all necessary safety standards is important in order to ensure everyone's safety when using your premises. In addition to these considerations, understanding what types of handicap-accessible doors are available on the market can also provide valuable insight when making an informed decision about which one will suit your business best.
Q: How Do I Know If The Door Meets The Necessary Requirements?
Ans: When considering the installation of handicap-accessible doors for a business in NYC, it is important to ensure that the door meets all necessary requirements.
This includes following accessibility standards and verifying the specifications of the door.
Consulting an accessibility expert can help guarantee that the chosen door abides by regulations and provides safe access for those with disabilities.
Additionally, any modifications made to existing doors should be done in accordance with code guidelines.
Q: Are There Any Additional Costs Associated With Installation?
Ans: Do the additional costs associated with installing handicap-accessible doors for a NYC business outweigh their ease of use and installation time?
This is a question many accessibility consultants face when consulting businesses on upgrading to more accessible entrances.
It's important to consider all aspects of the door, including cost, before investing in an upgrade.
When looking at potential installation fees or any other expenses related to making your entrance compliant with local laws and regulations, it's best to consult a professional who can provide you with accurate estimates.
With the right information, you can make an informed decision that fits within your budget while providing safe access for everyone who enters your property.
Q: Are There Any Maintenance Requirements For These Doors?
Ans: When upgrading to handicap-accessible doors for a business, there are certain maintenance requirements that must be met.
It is important to ensure that the doors continue to meet accessibility standards and safety regulations.
This can usually be accomplished by regularly inspecting the door components such as hinges, locks, sensors, etc., and making any necessary repairs or adjustments.
Additionally, it may also be beneficial to service the hardware on an annual basis in order to keep the door functioning properly.
By adhering to these maintenance requirements, businesses can help ensure their handicap-accessible doors remain safe and compliant with applicable laws and regulations.
Q: Is There A Warranty Included With The Door?
Ans: When investing in handicap-accessible doors for your business, it is important to consider the warranty being provided.
Warranties provide assurance that safety measures and further improvements are taken into account if any issues arise with the door.
An accessibility consultant can advise businesses on the best type of warranty available depending on their specific needs.
With a reliable warranty, businesses can rest assured that they are making an investment towards improving access for those with disabilities while protecting themselves from potential damages or problems down the line.
Conclusion
The installation of handicap-accessible doors is an important step in providing a safe and comfortable environment to all individuals. These doors come in several different varieties, allowing businesses to choose the one that best fits their needs.
As such, it is important for business owners to make sure they are up to date with any applicable regulations regarding these doors' specifications and requirements. Additionally, there may be additional costs associated with installing these types of doorways; however, this can often be offset by tax credits or other incentives from local government organizations.
Furthermore, these doors require minimal maintenance and usually include warranties that cover any potential damages or repairs. All in all, making the upgrade towards handicap-accessible doorways is a smart move for both moral and financial reasons.
Not only does it demonstrate commitment to creating an inclusive space but also provides peace of mind knowing that your facility meets ADA standards. With a variety of options available on today's market and various incentives offered through governmental agencies, upgrading your business' entranceway has never been easier.
As a result, businesses should strongly consider investing in modernized doorways that meet accessibility requirements as soon as possible before facing potential legal ramifications or reduced customer satisfaction rates due to lack of compliance.