#1 Aluminum Door Repair Company NYC
Service throughout The Five Boroughs
Aluminum doors are immensely durable and offer maximum protection against vandals, thieves, and the elements. We ensure that your aluminum door repair is done properly and gives you the security you need. At Door Guys NYC, you'll find some of the best door professionals adept at repairing commercial and residential aluminum doors.
We offer around the clock emergency repair services, so no matter when you need us, our team will be ready to service your aluminum door and fill in any cracks or openings.
Your home, family, and guests will be safe with our strong, secure aluminum door repair services in NYC. At Door Guys, you'll be sure to find the best door repairmen in New York City. Call (212) 983-0249 today to find the solution to all your door repair needs.
Consult with Experts About Your
Aluminum Door Repair NYC
Since winters and summers can both be extremely harsh in New York City, aluminum doors give you the insulation and security from the elements that you'll need.
Our dedicated team of door experts will fix your aluminum doors and shutters for you no matter where they've been purchased and help you install fixtures and parts you might like for your aluminum door. No matter the damage, Door Guys NYC will know how to repair it. You won't have to worry a moment if you choose us. If it's a door, we can fix it.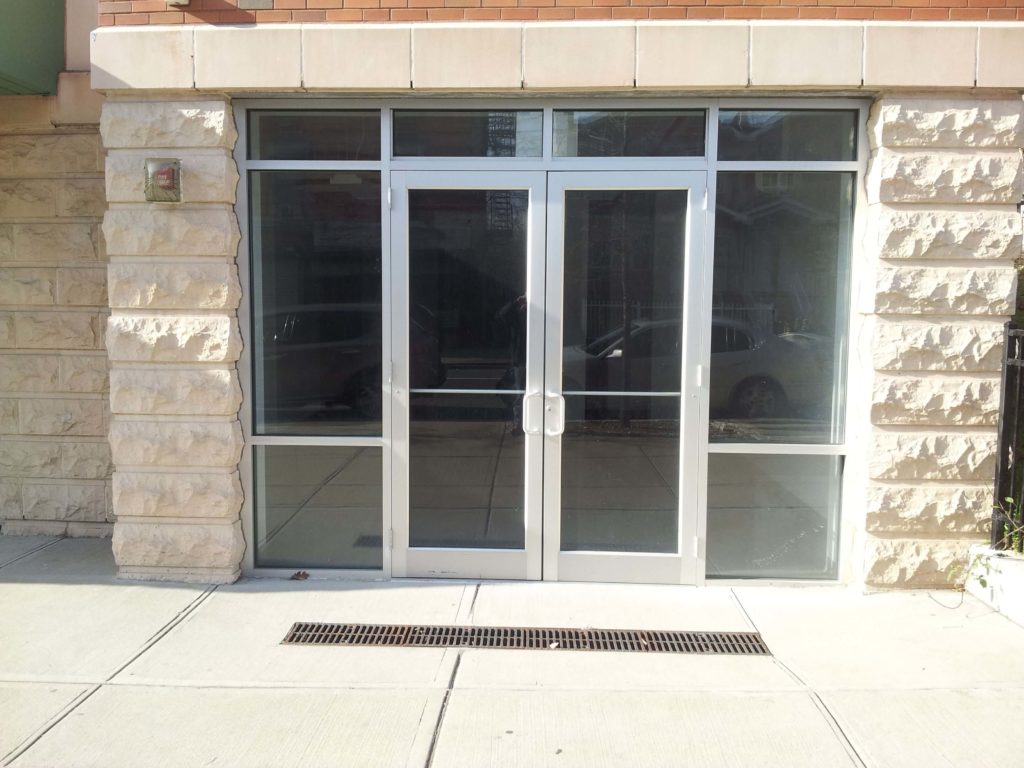 How to Know When You Need
Aluminum Door Repairing in NYC?
Aluminum doors are strong and durable and offer greater protection than most other types of doors. They're generally available in a variety of colors and styles.
However, constant use wears most materials, and aluminum is no different. For example, you'll know you need get the lock on your aluminum door replaced when your locking mechanism starts to act up or jams in.
If your door isn't aligning in the frame, we can realign your door for you or replace the frame.
Customize Aluminum Door Repair in NYC
If you've purchased an aluminum door already and would like to get it customized with cat flaps or letterboxes, we've got that covered as well.
Any dents, holes, or cracks in your aluminum door can be fixed by our team of door experts. No matter what time of the day you need your aluminum door repaired, our emergency repair services will help you out.
Door Guys is New York City's go-to for all aluminum door repair , automatic sliding door installation nyc & repair needs. Call (212) 983-0249 today to find the most affordable and convenient door solution throughout the five boroughs in NYC.
Secure Commercial Aluminum Door Frames
At Door Guys, we have aluminum residential & commercial doors repair designed to ensure maximum safety, so no matter where your business or place of residence is located, you'll be safe. Our metal doors and door frames are made by the best manufacturers and offer different grades of security and fire protection depending upon your unique needs.
Our Range of Door
Services We Offer in NYC
Our experienced teams are ready to provide you the services you need. Just give us a call at (212) 983-0249.
Door Guys NYC focuses its product offering and apartment doors installation & repair nyc services in New York City, where its offices combine the right people with the right price and adds more than a dash of diligence and passion. No matter what retail  or commercial door services you might need in NYC, Door Guys NYC is right where you need us to be: at your doorstep! Call us at (212) 983-0249 to schedule an appointment.
Door Guys NYC is the premier door installation and door repair services provider of its kind in New York City, specializing in new installation, repair, and service of commercial and retails doors and gates