Automatic Swinging Doors Installation Services NYC
Automatic swinging doors are all about space. From shopping centers to retail and commercial buildings, all the way to private homes, these doors make for better use of your space by facilitating foot traffic. Door Guys NYC offers automatic swinging door products that combine immaculate design with full functionality and security, along with customizable colors and finishes that fit just right with your unique taste. Give us a call at (212) 983-0249 to get automatic swinging door installation services in NYC for your property.
These doors come in a variety of distinctive configurations, but modern models will generally include features like control mats, sensors, and safety signage. Having such doors can ensure better security for your home or business, giving you and people visiting your premises a sense of safety. Call Door Guys at (212) 983-0249 to get professional automatic swinging door installation services to give your property that right mix of aesthetics and functionality.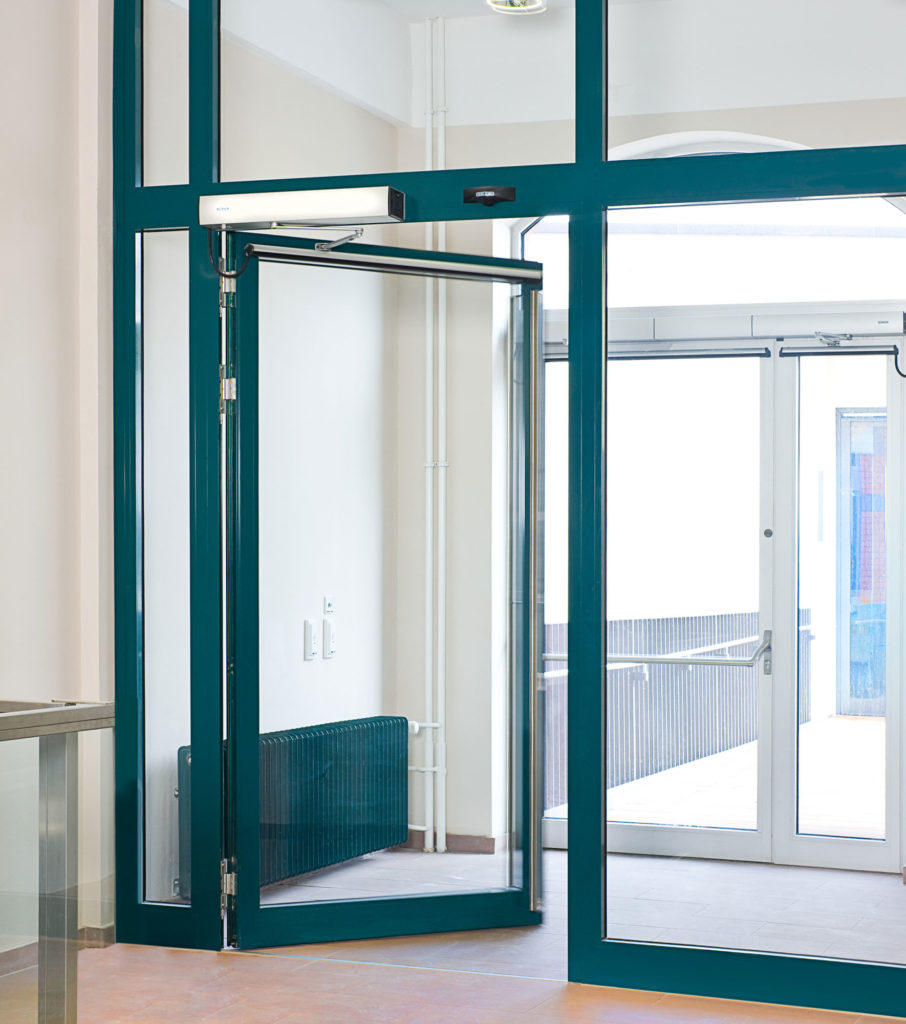 Customized Automatic Swinging Door Installation in NYC
Automatic swinging doors are extremely adaptable. Compared to other doors, automatic swing doors come in a greater variety of installation options. These doors come in glass, metal, and wood, and are easy and fast to install.
 At Door Guys, we customize your automatic doors, so they suit the requirements of the entrance to your property. These doors are an excellent way to spruce up your property's curb appeal. If your business operates with limited space or sees a lot of foot traffic, automatic swinging doors or automatic sliding doors NYC could be the right choice for you.
Why Should You Get Automatic Swinging Doors in NYC?
Automatic swinging doors work well within just about any industrial, commercial, retail environment, or personal environment. In commercial settings, the convenience of these doors goes a long way in improving traffic flow and thus making for more enjoyable customer experience. In fact, according to the American Association of Automatic Door Manufacturers, almost 99% of survey respondents favored automatic doors over manual ones.
Give Door Guys a call at (212) 983-0249 and have these technologically advanced doors installed. What's more, automatic swinging doors make access easier for elderly and disabled visitors. They allow all your customers to have a more positive shopping experience, regardless of their physical capacities.
Enjoy the Technological Features
of Automatic Swinging Doors in NYC
Manual doors can be left open by accident, which adversely affects your energy bill. Automatic swinging doors neatly sidestep this issue as they only open when they're in use, which avoids gratuitous temperature fluctuations. There are also plenty of low-energy automatic swinging door configurations for low-energy applications.
Whether you need a full-energy or low-energy automatic swinging door system, Door Guys NYC is ready to provide the most technologically advanced solution you need. Our automatic doors come equipped with features such as motion sensors, card readers, push plates, touchless activation sensors and more. The panels of our doors can be customized with an array of accessories as per your requirements.
Call Us Now to Get your Automatic swinging doors Installed Today
For more information about getting automatic swinging doors installed in your home or business, you should get in touch with us. Our skilled technicians will determine your automatic swinging door is compliant with industry standards. Call (212) 983-0249 today to schedule an appointment. Or consult us to figure out the most affordable and convenient automatic door solution for your store throughout the five boroughs.
Door Guys NYC is the premier door installation and door repair services provider of its kind in New York City, specializing in new installation, repair, and service of commercial and retails doors and gates